U.S.A. -(AmmoLand.com)– The 5.7x28mm gets all the love as far as PDW rounds go. It's easy to see why. FN released the P90 in the form of the PS90 and the Five-SeveN to the civilian market. HK never did a thing with the 4.6x30mm round. However, just because HK won't doesn't mean that the rest of the market ignores it. CMMG recently released the Four Six, a 4.6x30mm firearm that not only gives us everyday Joes a 4.6 firearm but brings the 4.6x30mm to the AR platform.
CMMG's Four Six joins the Banshee line of super short but super handy weapons that occupy the AR 15 pistol space. This little fella weighs a mere 5.6 pounds and comes with an 8-inch barrel. For the 4.6x30mm, 8-inches is more than enough. Plus, it keeps the weight quite short and super maneuverable, making it awesome for home defense purposes.
The magazine is proprietary…and it has to be. HK doesn't exactly make MP7 magazine widely available. While the mag is proprietary, it's the best kind of proprietary. CMMG made the magazines the same round external dimensions as AR-15 magazines. They fit in a standard AR 15 magwell and can use standard AR-15 magazine pouches. Not a bad idea by any means, and did I mention the mags hold 40 rounds of the little stingers?
The 4.6x30mm Cartridge
It's like that Britney song, I'm not a girl, not yet a woman. The 4.6x30mm isn't a pistol round, but it's not quite a rifle round either. It sits between the two and offers you some benefits and downsides. Upfront, it can't perform like a 5.56 can. It lacks the range, power, and low price of 5.56.
However, when compared to pistol rounds, it can go further, penetrate deeper, and tumble much like a rifle round. Plus, like a pistol round, it can be fired from a short barrel without a mass of flash and concussion.
The little round sits in a nice space and delivers some of the best aspects of the Four Six. That being the weapon's low recoil, nonexistent muzzle rise, ultra-small size, and awesome DI system.
Yep, instead of the radial delayed system, the Four Six uses a direct impingement system that you'll find on most standard AR-15s. This ensures you have reliable action, comfortable recoil, and it's all done through CMMG's patent-pending gas block and micro gas system.
The Four Six Functions
The CMMG Four Six comes ready for action from CMMG. It comes with a solid little M-LOK handguard and an awesome Ripbrace that allows for instant deployment of a brace to a preset point. The CMMG Four Six utilizes a huge ambidextrous charging handle, an ambidextrous safety, and a Magpul pistol grip.
It's not a AR 15 crapped out and ignored. It comes ready for you to enjoy. All you need to do is toss on a set of sights or an optic, and bam, you are ready to pow, pew, and plink! Speaking off, I fired 400 rounds through the gun without issue.
I took the gun through various drills, including modern drills like the Sage Dynamics Eleanor and classics like the El Presidente. In terms of new successes, I got my fastest time with the VTAC 1-5 ever in 3.57 seconds.
That's a personal best, and certainly, better shooters can school me on it. Regardless of my personal deficiencies, the Four Six's super-low recoil makes it crazy easy to control at close range. Heck, even with one arm, I could score hits at 25 yards. The gun barely moves between shots, and the recoil is super low.
The 4.6x30mm offers you 100 yards of flat-shooting potential, with just a little drop at 150 yards. It's an impressive distance for such a little round, and at that distance, it still packs a solid punch. This gives the 4.6x30mm a lot more range over a standard pistol round.
Is the Four Six For You?
The CMMG Four Six delivers upon us the first 4.6x30mm firearm for the civilian market. Thankfully, they did it right with the Four Six. It's a light and sweet gun that provides awesome performance out to 150 yards. You get a fascinating weapon in a fascinating caliber. It might not be for everyone, but I sure as hell appreciate it. If it interests you, the MSRP is 1,399.95, and it's available now.
---
About Travis Pike
Travis Pike is a former Marine Machine Gunner, a lifelong firearms enthusiast, and now a regular guy who likes to shoot, write, and find ways to combine the two. He holds an NRA certification as a Basic Pistol Instructor and is the world's Okayest firearm's instructor.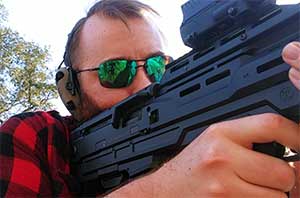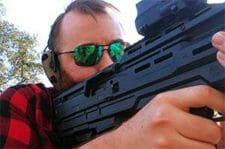 Some of the links on this page are affiliate links, meaning at no additional cost to you, Ammoland will earn a commission if you click through and make a purchase.