U.S.A. –-(AmmoLand.com)- Holosun's new optic breaks away from tradition in more ways than one. First, they ditched the numbering scheme and are calling this the Holosun AEMS, aka the Advanced Enclosed Micro Sight. Second, this new design takes Holosun forward in innovation and design. The word micro might make you picture a pistol optic, but you'd be wrong. The AEMS aims to be your next favorite long gun optic, be it a shotgun, rifle, or braced handgun.
Taking AEMS
The AEMS utilizes a square shape design over the traditional tube and sits right with most compact long gun optics size-wise. The main benefit of the square design is that while the optic maintains a small profile, it provides a much bigger window overall. Additionally, there is less than occupies the peripheral of the optic, and you get a nice unobstructed field of view.
The window size is 1.1 inches by .87 inches. If you start looking at compact optics, you quickly realize the AEMS offers a much larger window than the competition. In fact, it's right up there with full-sized optics in terms of window size but maintains a very small profile.
The optic gives up three different reticles to choose from, including a 2 MOA dot, a 65 MOA circle, and a combination of the dot and circle. I prefer the latter and do almost all of my shooting with the eye-catching 65 MOA circle and 2 MOA dot.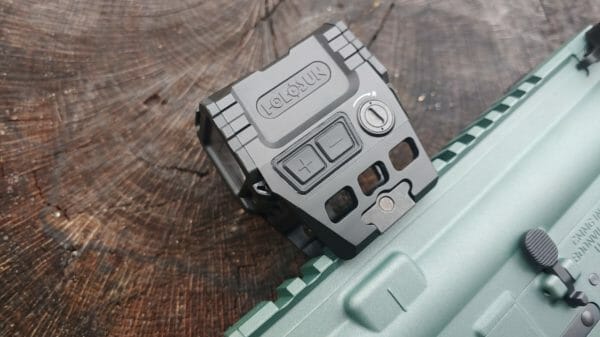 The optic comes in red or green, and I chose red. The optic utilizes a CR2032 battery on top of a backup solar panel. On top of that, we get shake-awake technology. Should the optic remain motionless for an extended period of time, it will automatically shut off. When you grab it once more, the optic fires up and comes back to life.
The AEMS sits at an AR height and makes it easy to mix and match with both weapons. That being said, Holosun needs to release new mounts soon.
Bring To Bear
I've used the AEMS on a wide variety of firearms. This includes a standard AR-15, a Scorpion, the S&W M&P 12, and now it lives on the CMMG FourSix. It's a versatile optic that works well on a variety of firearms. On the Scorpion, it sat fairly high, but on the rest of the weapons, it worked awesomely.
I've zeroed it several times, and I've always found it easy to do. The recessed turrets require a flat head tool. The .5 MOA adjustments make it quick and easy to zero, and I've zeroed at 15, 25, and 50 yards depending on the platform. Getting the AEMS zeroed takes no time at all.
The lens has a slight blue tint, but other than that, it's remarkably clear. Surprisingly clear, and the reticle provides an awesome level of crispness. You get to choose between 8 daylight settings and 4-night vision settings. It's bright enough for the bright days and makes itself easy to see.
Holding zero wasn't an issue either. On rifles, PCCs, and 12 gauge pump shotguns, the AEMS held zero the entire time.
You don't realize how much you appreciate a good field of view until you get one. The AEMS opens things up for you and makes things easy and sweet to see. Switching between targets and transitioning is super easy, and the wide field of view allows you to see what's coming before it gets there.
Beyond the Lens
A pair of great big buttons provides a set of simple controls to control brightness, change settings, and turn the optic on and off. They are tactile and give great feedback. They are huge and rubberized for easy use.
Holosun includes a pair of lens covers that are transparent and pop on and off, or just hinge open. These lens covers are disposable, and you buy and install replacements if you scratch them to hell and back or accidentally break one. I find the lens covers clear enough to shoot with them in place.
There is a lot to like about this optic. What I don't like is the mount. It's a new, proprietary mount that currently only comes in a lower 1/3rd height. It sits really high on optics that lack inline stocks. So on the Scorpion, it's much too high to achieve a cheek weld when using the optic. Holosun needs to release those new mounts soon.
Latest and Greatest
Holosun shows some real innovation with the AEMS. The size to window ratio is fantastic and nearly absurd when compared to other optics. Over hundreds of rounds from a variety of different platforms, the AEMS functioned without issue. I hope Holosun keeps the ball rolling on releasing new optics and pushing innovation forward.
---
About Travis Pike
Travis Pike is a former Marine Machine Gunner, a lifelong firearms enthusiast, and now a regular guy who likes to shoot, write, and find ways to combine the two. He holds an NRA certification as a Basic Pistol Instructor and is the world's Okayest firearm's instructor.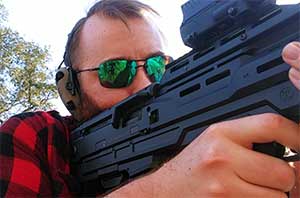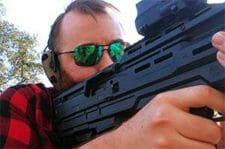 Disclosure: Some of the links below are affiliate links, meaning at no additional cost to you, Ammoland will earn a commission if you click through and make a purchase.