U.S.A. -(AmmoLand.com)- SHOT Show 2022, the event everyone thought would be canceled is alive and well. And like every SHOT Show, this one is filled to the brim with new stuff for gun-lovers to drool over. In fact, there's so much to look at, it's hard to keep track of it all. Thankfully, we hard-working folks here at AmmoLand are compiling a list of our favorite picks for every day of the show. So buckle up, the fun's just starting.
FN High-Power 9mm
As we reported earlier, FN America is bringing back its classic wonder 9 pistol but with many of the modern comforts that shooters expect in the 21st century. The biggest advancement in the new version of the pistol is the increased magazine capacity. Previously, the original HiPower utilized a 13-round magazine, which at the time was revolutionary. Now, most full-sized 9mm handguns hold at least 15 rounds. FN America's answer – increase the capacity to 17+1, putting it on par with the full-sized Glock 17 but made from glorious steel.
The new FN America High Power will be available in three different finishes, and retail for $1,269 for either the black or FDE models and $1,369 for the stainless.
POF USA Phoenix
Patriot Ordnance has a long history of building awesome guns that are a little off the beaten path. While some of its firearms look like standard AR-15s, under the hood these guns utilize operating methods more tolerant to rough conditions. So in many ways, it was only a matter of time before POF released its own take on the pistol-caliber carbine/large format pistol craze. And they didn't skimp on quality or ingenuity.
Chambered in 9mm, the new Phoenix utilizes a proprietary billet lower that features fully ambidextrous controls. The little pseudo-sub gun also features a folding, non-reciprocating forward charging handle not dissimilar to those found on MP5s, and a monolithic rail system. At the read, the Phoenix features a Picatinny rail mount for attaching a brace, or if a shooter has a tax stamp, a stock.
The POF USA Phoenix retails for $1,699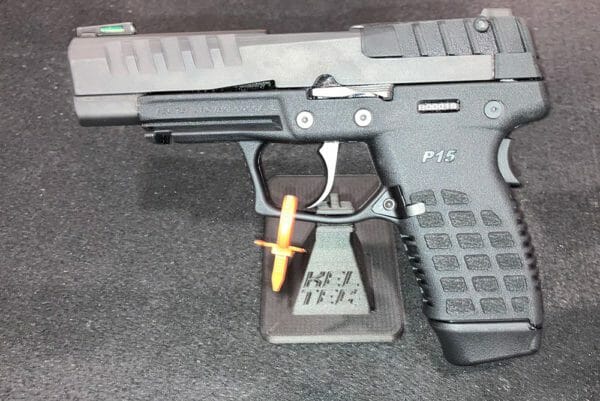 Kel-Tec P15
Kel-Tec is a company whose unofficial mantra is, "Wouldn't it be cool if…" and the P15 is no exception. The engineers at Kel-Tec build this little compact 9mm handgun from the ground up to be the perfect concealed carry hangun. Measuring under an inch thick, the P15 disappears in a pocket or holster despite featuring an impressive 15-round capacity magazine!
The models shown at SHOT Show 2022 included both a polymer-framed and aluminum-framed version, but if past shows and Kel-Tec's history are any indication, we'll likely be limited to the polymer-framed model for the foreseeable future. Still, a very cool addition to their product lineup, and the polymer model is the real star of the show, especially with its incredible 14oz overall weight.
The Kel-Tec P15 retails for $425.
DRD Tactical MFP-21
While DRD Tactical isn't as well known as other gun makers in the industry, they still make some top-notch firearms. Their latest product is the MFP-21, a super-compact direct-impingement rifle-caliber pistol. Available in both 5.56mm and .300blk, the new MFP-21 looks like a cross between the SCAR-16 and the Magpul ACR. But unlike both of these guns, still utilizes a DI operating system.
The MFP-21 also features a folding, non-reciprocating charging handle at the front of the handguard, and feeds from standard STANAG magazines. While somewhat unconventional looking, the MFP-21 would definitely make a great SBR host or hiking gun especially with a folding brace attached to its rear Picatinny rail mount.
The DRD Tactical MFP-21 retails for $2,500.
Taurus TX-22 SCR
Last on our list, is the Taurus TX-22 SCR pistol. This little rimfire plinker is designed from the ground up for blasting steel targets in competition or the range. It feeds from 16-round magazines and includes a special rock-solid optics mount that can accommodate several types of reflex sights – including both Aimpoint Micros and Trijicon RMRs.
The TX-22 SCR ships with three magazines in the box, and retails for $589.
---
About Jim Grant
Jim is one of the elite editors for AmmoLand.com, who in addition to his mastery of prose, can wield a camera with expert finesse. He loves anything and everything guns but holds firearms from the Cold War in a special place in his heart.
When he's not reviewing guns or shooting for fun and competition, Jim can be found hiking and hunting with his wife Kimberly, and their dog Peanut in the South Carolina low country.