U.S.A. -(AmmoLand.com)- The Vortex Razor HD Gen III 6-35x56mm optic is so good, it will make you think you're an amazing shooter. It's a bold claim for sure, but hear me out. The clarity and light reception of the new Gen III Razor is so brilliant that you'll never have to guess whether your shot was on target or not. But the same could be said of the previous model, the Razor HD Gen II 4.5-27x56mm, so is the new HD Razor Gen III worth a buy?
Let's take a closer look, and find out.
My journey to the Razor HD began when the folks at FN America sent a SCAR 20s NRCH Rifle in 6.5 Creedmoor to my FFL. The SCAR 20s is a true precision rifle and one that requires top-tier glass to truly maximize its efficacy. After all, if I can't properly see my target, how can I expect to actually hit it?
So I choose one of the biggest, baddest Vortex optics available – the Razor HD Gen III 6-36×56.
And see the targets I did. Holy smokes. True to the Vortex Razor's lineage, the newest edition of the optic is both crystal clear and absurdly bright in all but the darkest conditions.
So much so, that during the first range session with this dynamic duo, I successfully kept engaging targets only a few minutes before official sunset. And if you've ever hunted deer in failing light you're undeniably familiar with the importance of light reception in an optic. Few things are as frustrating as not being able to take a trophy buck because your glass isn't bright enough to take an ethical shot.
But there's more to an optic than just magnification, clarity, and brightness. So let's take a look at some of the new Razor's features.
Razor HD Gen III Features
First and foremost, the Razor HD uses a first focal plane EBR-7D reticle that, as the name implies, never changes its scale. So both your core reticle and all the subtensions function identically regardless of magnification. This is ideal for long-range shooting, where shooters don't just need more magnification, but proper consistent holdovers and reticle data.
Secondly, the Razor HD Gen III 6-36×56 features Vortex's patented  L-Tec+ Zero System. This system consists of set screw-secured turret caps that allow a shooter to dial in the proper dope for their cartridge and range, and quickly return to their original zero without fear of disrupting their zero. In fact, I would argue it would be next to impossible to accidentally ruin the scope's zero once the set screw is properly secured.
Another nice aspect of the turrets is the fact that they allow a shooter to set the proper zero of the scope between clicks. So shooters can make sure their rifle is zeroed as close as humanly possible for a specific range. This is especially important for ultra-long-range shots, since a 100-yard zero that is off by even a quarter-inch translates to missing by nearly a foot at 2,000 yards.
On the outside, the new Vortex HD Gen III 6-36×56 features ArmorTek nano-ceramic coating to prevent corrosion or damage to the scope body during transportation and hard use.
Speaking of hard use, the new Vortex HD Gen III is fog, shock, and waterproof. So shooters can rest assured that their new Vortex Razor is as tough as it looks.
Other features include an illuminated reticle powered by a single CR2032 battery, an included sunshade, and an aircraft-aluminum body built in Japan.
But enough about the features of the new Vortex, what about performance.
Razor HD Gen III Testing & Shooting

Before mounting the new Vortex on my SCAR 20s, I installed it on a Benelli M4 shotgun and fired 50 rounds of 1-inch slugs through the gun as well as 50 rounds of 3-inch magnum goose loads. These rounds tend to impart a tremendous amount of recoil impulse on an optic and on cheaper options can cause a loss of zero. But this wasn't the case at all on the Vortex. The Razor HD Gen III held up flawlessly with the zero remaining perfectly consistent after all rounds fired.
After the Benelli, I mounted the Vortex on an FN SCAR 20s NRCH in 6.5 Creedmoor, and again the zero was perfect. But to make sure the scope was not just rock-solid, but also that its turrets worked great, I performed a box test on it.
For the uninitiated, a box test is where a shooter fires 5 rounds, adjusts the zero up 5 MOA, shoots 5 more rounds, then right, then down, and finally left back to the original zero. If the turrets are working fine, the groups should form a perfect, 'box' with each corner exactly five MOA apart. And again, the Vortex passed with flying colors.
With an MSRP of $2,999, the new Vortex Razor HD Gen III is by no means, 'cheap'. But it's not designed to be. Instead, the engineers at Vortex built an ultra-durable, ultra-clear precision rifle optic with every feature a PRS shooter could ever want. And after spending a few months with the optic, I can say with total certainty, the Gen III Razor HD is my new go-to long-range rifle scope.
Buy This Rifle, Optic, and Accessories Here:
---
About Jim Grant
Jim is a freelance writer, editor, and videographer for dozens of publications who loves anything and everything guns. While partial to modern military firearms and their civilian counterparts, he holds a special place in his heart for the greatest battle implement ever devised and other WW2 rifles. When he's not reviewing guns or shooting for fun and competition, Jim can be found hiking and hunting with his wife Kimberly, and their dog Peanut in the South Carolina low country.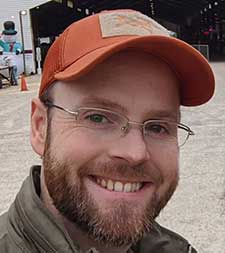 Some of the links on this page are affiliate links, meaning at no additional cost to you, Ammoland will earn a commission if you click through and make a purchase.