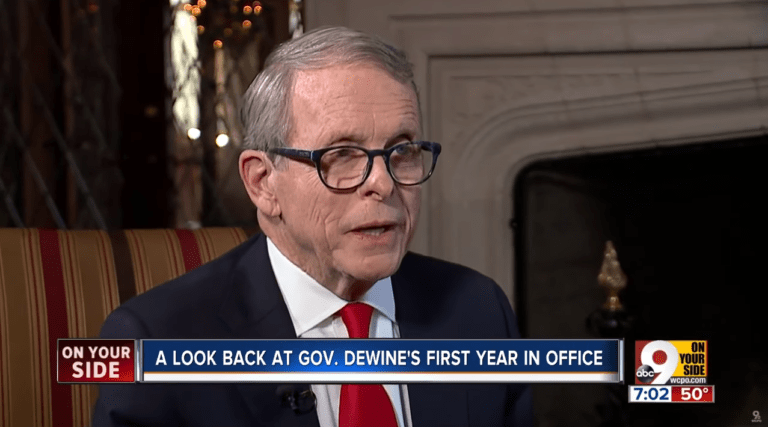 U.S.A. –-(AmmoLand.com)-– A little before 5 pm on Monday, March 14, the Ohio Governor signed SP 215 into law. With the addition of Ohio, there are now 23 states in the Constitutional Carry club.
At approximately 4:50 p.m. on Monday, March 14, 2022, Gov. Mike DeWine signed Senate Bill 215, which will make it legal to carry a concealed handgun without a license in Ohio 91 days after signing.

"This is a day that will go down in history," said Dean Rieck, Executive Director of Buckeye Firearms Association. "It has been about 18 years since Ohio enacted HB 12 to bring licensed concealed carry to the state."
According to the Ohio Legislative Service Commission, here is a summary of the effects of the law:
Provides that a person who is a

"

qualifying adult

"

is not required to obtain a

concealed handgun license in order to carry a concealed handgun that is not a

"

restricted firearm.

"

Defines

"

q

ualifying adult

"

as

a person who is 21 years of age or older

,

is not legally

prohibited from possessing or receiving

a firearm under specified federal or state

law

, and satisfies certain specified criteria necessary to obtain a concealed handgun

license

.

Defines

"

r

estricted firearm

"

as a firearm that is dangerous ordnance or that is a

firearm that any law of this state

prohibits the person from possessing, having, or

carrying.

 

States that specified references to a concealed handgun licensee apply to a

qualifying adult unless the context clearly indicates otherwise.

States that expiration, suspension, and revocation

references to a concealed

handgun license do not apply to a qualifying adult unless the person has been

issued a concealed handgun license.

Eliminates the requirement that a concealed handgun licensee must carry a

concealed handgun license in order to car

ry a concealed handgun.

Modifies the duty to notify by providing that a concealed handgun licensee or active

duty military member, before or at the time a law enforcement officer or motor

carrier enforcement unit employee asks if the person is carrying a c

oncealed

handgun, must disclose that the person is carrying a handgun unless the person has

already notified another law enforcement officer or motor carrier enforcement unit

employee of that fact.

Permits expungement of convictions based on failure to co

mply with the notification

requirements described in the preceding dot point.
There is a detailed analysis at the Legislative Service Commission site.

The text of the law is available at this state.oh.us site. 
The law should go into9 effect 91 days after signing. By this correspondent's calculations, that would be on June 14, 2022.
In this correspondent's opinion, it is dedicated Second Amendment activist groups in each state which have brought about the restoration of Constitutional Carry in so many states. 
It is important to have a knowledgeable, talented, dedicated lobbyist on-site, at the state level. 
The current members of the Constitutional Carry club are:

Alabama, Alaska, Arizona, Arkansas, Idaho, Iowa, Kansas, Kentucky, Maine, Mississippi, Missouri, Montana, New Hampshire, North Dakota, Ohio, Oklahoma, South Dakota, Tennessee, Texas, Utah, Vermont, West Virginia, and Wyoming.
Alabama's law goes into effect on January 1, 2023.
Indiana has a Constitutional Carry bill on the way to Governor Holcomb's desk.
Georgia has to reconcile Constitutional Carry bills passed in the Senate and the House.
Nebraska has had a bill pass the most important barrier in its unicameral legislature.
---
About Dean Weingarten:
Dean Weingarten has been a peace officer, a military officer, was on the University of Wisconsin Pistol Team for four years, and was first certified to teach firearms safety in 1973. He taught the Arizona concealed carry course for fifteen years until the goal of Constitutional Carry was attained. He has degrees in meteorology and mining engineering and retired from the Department of Defense after a 30-year career in Army Research, Development, Testing, and Evaluation.