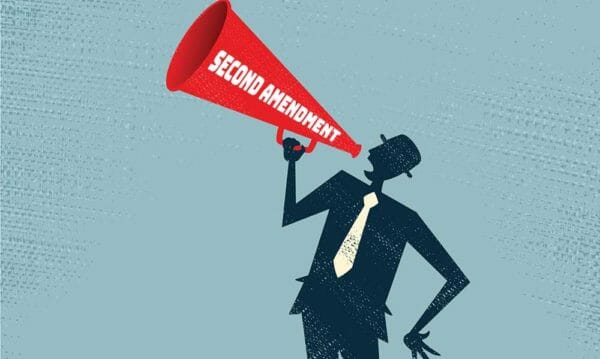 Ottawa, Canada/United States – -(AmmoLand.com)- February 18 is a date that should be burned into the memory of Second Amendment supporters. It's a reminder of what can be at stake in the fight for our Second Amendment rights, and we should also note the reactions to it.
You don't see a lot of praise from anti-Second Amendment extremists in office for Trudeau's actions against the protestors in Ottawa. That's not the concern. What is concerning is that the condemnation of these actions against what is truly a mostly peaceful protest (as opposed to the 2020 riots) has also been absent.
It's jarring. Had this happened in the Middle East, we'd be training rebels and sending arms. In fact, in 2011, the United States and NATO (including Canada) toppled Qaddafi's regime over something not too dissimilar.
What happened in Ottawa is alarming and should be viewed with grave concern. Because in some ways, we're well down that path. Take, for instance, the Cuomo-James regime's war on the NRA, or Gavin Newsom's move to target gun manufacturers.
I know, Wayne LaPierre and the NRA are a sore subject, but Letitia James lied when she called the NRA a "terrorist organization" as she ran for the office she is now abusing, just as Trudeau lied about the truckers. She then used those lies as a pretext to attack our ability to use out First Amendment rights to defend the Second Amendment.
You think we're that far off?
Even if James fails, there will be other attacks aimed at our rights to protect ourselves, notably financial deplatforming. You think the groundwork isn't being laid for that to happen to Second Amendment activists? Re-read the letters that were sent to banks and insurance companies after Parkland.
"But Wayne's suits" seems pretty hollow now. So does "Negotiating Rights Away." You may not agree with the NRA's tactics and strategy. You may not like Wayne LaPierre. But those disagreements and dislikes are small potatoes compared to the threat of a Justin Trudeau.
We have enemies who increasingly are dehumanizing us. We're not people who have good-faith disagreements, we're child-killers and domestic terrorists for opposing efforts to punish us for crimes and acts of madness we did not commit. What happened in Ottawa is a potential destination for where such rhetoric can lead.
Some of those who engaged in that lack of civility are now running for office to "restore" the civility they trashed. Is that another situation where there are rules that can be ignored, just as long as you are an anti-Second Amendment extremist? What other rules will be put to the wayside in the name of putting Second Amendment supporters in what anti-Second Amendment extremists decide is their place?
Second Amendment supporters need to take note of these events and to act accordingly.
---
About Harold Hutchison
Writer Harold Hutchison has more than a dozen years of experience covering military affairs, international events, U.S. politics and Second Amendment issues. Harold was consulting senior editor at Soldier of Fortune magazine and is the author of the novel Strike Group Reagan. He has also written for the Daily Caller, National Review, Patriot Post, Strategypage.com, and other national websites.