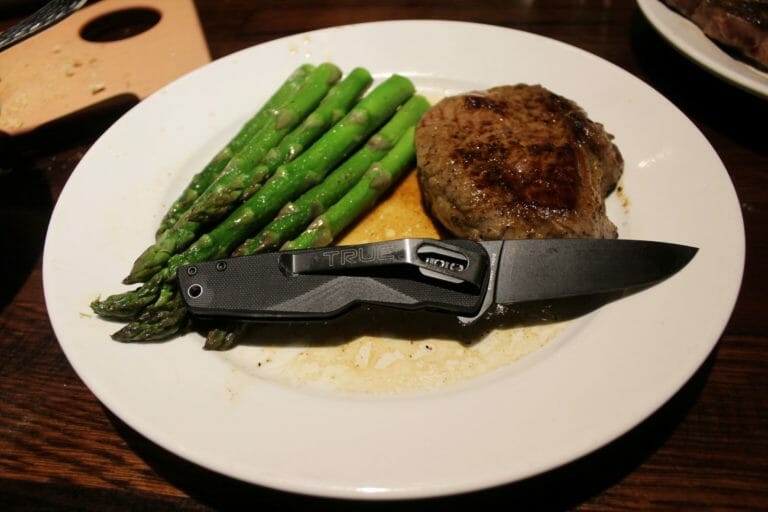 U.S.A. -(AmmoLand.com)- I recently saw a Press Release from Source Outdoor Group marketing company about the True Ball Bearing Flipper Knife. It appeared to be a thin profiled folding knife that would be good for EDC so I told them that I'd like to test one out.
When I flew home a couple of weeks later it had arrived. I immediately popped it out of the box. Not that it really matters but it does give a good first impression. I thought that the box was attractive. I don't know why because it is just a black box. When I pulled it out of the box, I was automatically drawn to it. I liked that it was thin profiled which would make it comfortable to carry since it wouldn't take up half of my pocket.
It has a nice pocket clip and a lanyard hole for those of you that like to put a lanyard on their knives. But now for the major attribute. How fast/easy is it to open? It is a flipper knife. If you're new to the knife world here's what a flipper is. A flipper has a tab on the bottom of the blade behind the cutting surface that protrudes out of the back of the handle when closed. It is designed so that when you press against it swiftly and flip your wrist that the blade will flip it open. Hence it is called a flipper. When open the tab then keeps your pointer finger from sliding down onto the blade.
The tab has two functions:
1. Aids in fast deployment.
2. Aid in preventing your pointer finger from sliding down on the blade, thereby preventing a cut.
The smooth opening process of the True Ball Bearing Flipper is aided by ball bearings which provide for an easy, smooth opening. With the flip of the wrist, it flips open smoothly. I like the smooth deployment that it has.
It utilizes the liner lock system to lock the blade in place. When you're looking at buying a knife that utilizes the liner lock system you want to check to make sure that the liner lock slides over far enough to securely lock the blade in place. This one does. On a semi-high percentage of the liner lock folding knives that I've tested the lock only halfway slides over on the back of the blade. Which could result in it closing while you're using it. So, look for this default when buying a liner lock knife.
I like the knife. It has a thin profile so it is comfortable to carry and it flips open easily. The only drawback for me is that it is about ¼-inch too short for me to feel like I have a super firm grip on it. But, it was designed to be a medium-sized EDC and that is what it is. On top of that, I'm talking about what fits my hand specifically. A lot of people have smaller hands than me. So, in defense of the True Ball Bearing Flipper knife, that'd be like criticizing a .22 because it is not adequate for bear hunting. The .22 wasn't designed to hunt bears with. It was designed for small game and plinking. That's why we have the .22, 5.56, 30-06, and .338 Win. Mag. Not one caliber fits all applications. Same with knives.
The blade length is 3-inches and it has a drop point. It has a G10 handle with a texture that I'd describe as resembling super light sandpaper which enhances your grip. If it had some thumb grooves on the spine, I think I'd feel like I had a firmer grip on it.
But all told, I like the little knife and am carrying as we speak. The MSRP on the True Ball Bearing Flipper Knife is $29.99 and as is usual we will close with the specs.
Features
• Blade Shape: Drop Point Blade
• Blade Length: 3"
• Blade Edge: Plain / Straight
• Blade Steel: 8Cr13MoV Stainless Steel
• Blade Finish: Black Oxide
• Locking: Liner lock
• Handle: G10
• Lanyard hole
Dimensions
• Length: 4.375" (closed) / 7.375" (open)
• Width: 1.25"
• Depth: 0.75"
---
About Tom Claycomb
Tom Claycomb has been an avid hunter/fisherman throughout his life as well as an outdoors writer with outdoor columns in the magazine Hunt Alaska, Bass Pro Shops, Bowhunter.net, and freelances for numerous magazines and newspapers. "To properly skin your animal you will need a sharp knife. I have an e-article on Amazon Kindle titled Knife Sharpening for $.99 if you're having trouble."