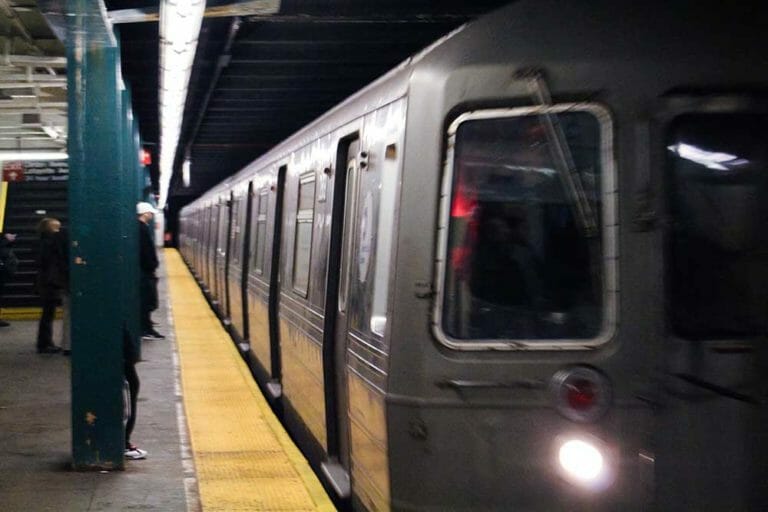 U.S.A. –-(AmmoLand.com)- A new Rasmussen survey shows more likely voters "don't think stricter gun control laws would help prevent shootings like the one Tuesday" in the Brooklyn subway than people who want more gun laws, as the suspect, in this case, has now appeared in court and is facing federal charges.
According to Rasmussen, 51 percent of likely voters don't believe the attack that left 29 people injured, including ten with gunshot wounds, would have been prevented by stricter laws. The poll was conducted April 12-13 and released April 14, revealing only 38 percent believe tougher gun laws would help prevent mass shootings.
One major grassroots gun rights organization says these poll numbers reflect what they've been saying for years.
Alan Gottlieb, chairman of the Citizens Committee for the Right to Keep and Bear Arms saw the survey and told Ammoland News, "It is significant that Rasmussen pollsters also learned that 59 percent think it's not possible to prevent the kinds of shooting incidents like what happened in Brooklyn. This is why we have always supported expanded concealed carry by law-abiding private citizens. If history has taught us anything, it's that violent crime does not happen on a prearranged schedule, and criminals or madmen do not call ahead to warn their victims."
The Rasmussen poll results also reinforce the belief that Democrats reflexively think more gun control is the answer to all violent crime. Democrats (65%) are far more likely than Republicans (23%) or Independents (38%) to believe the U.S. needs stricter gun laws, the survey revealed. Likewise, Democrats (61%) think stricter gun laws would help prevent mass shootings, while only 18 percent of Republicans and 32 percent of Independents share that opinion.
"Clearly," Gottlieb said, "the majority of Americans don't think adding restrictions on the rights of honest citizens is going to make a difference to people who are determined to commit mayhem. That has never been the case, and never will be, regardless what kind of extremist solutions are proposed by the gun prohibition crowd."
Rasmussen broke down the survey results by race and gender as well.
"Women voters (47%) are more likely than men (37%) to believe the U.S. needs stricter gun control laws, but majorities of both men (66%) and women (53%) think it's not possible to completely prevent mass shootings," the veteran polling firm reported.
"More Black voters (54%) than whites (40%) or other minorities (44%) believe the United States needs stricter gun control laws," Rasmussen added. "Similarly, more Black voters (54%) than whites (32%) or other minorities (44%) think stricter gun control could help prevent shootings like the one in Brooklyn."
Subway shooting suspect Frank James is being held on "permanent detention pending any potential bail packages that the defense may present in the future," according to Fox News. Prosecutors had wanted him held permanently pending actual trial.
James, 62, has been charged with a single count of committing a terrorist or other violent attack against a mass transportation system, Fox reported.
The suspect was arrested following a 30-hour manhunt after he apparently called Crime Stoppers and revealed his location. He had also been spotted by several people. He allegedly left a gun at the crime scene which had been legally purchased at an Ohio pawn shop some years ago, according to Fox News. The pistol, identified as a 9mm Glock, may have jammed. The suspect apparently violated several existing New York laws by carrying concealed without a license, and opening fire, wounding several people. All of those would be state charges, indicating James will be facing a lot of court time for the foreseeable future.
Perhaps significantly, another recent Rasmussen survey found that 61 percent of likely voters "believe the problem of violent in America is getting worse. Only 11% think the crime problem is getting better, while 26% think the problem is staying about the same."
Even more important, especially to Democrat majorities now facing a potential drubbing in November, Rasmussen found a whopping 81 percent "believe the issue of violent crime will be important in this year's congressional elections, including 46% who say the crime issue will be Very Important."
"Only 35 percent of voters rate Biden excellent or good for his handling of crime and law enforcement issues," Rasmussen said.
RELATED:
---
About Dave Workman
Dave Workman is a senior editor at TheGunMag.com and Liberty Park Press, author of multiple books on the Right to Keep & Bear Arms, and formerly an NRA-certified firearms instructor.