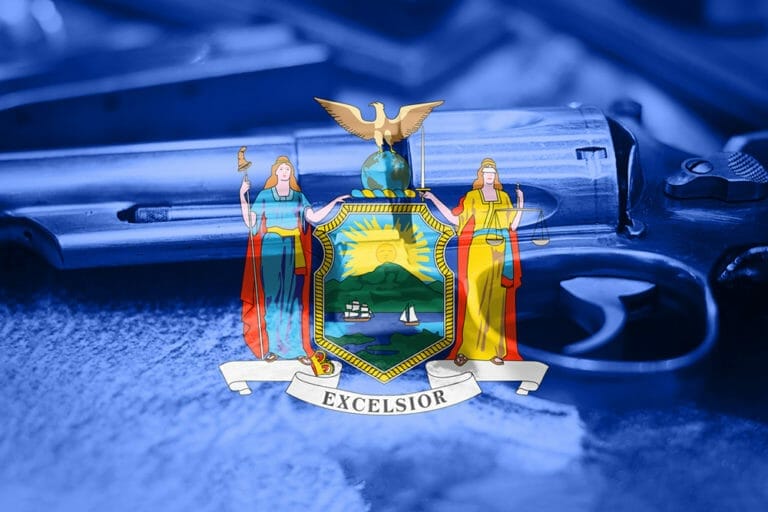 U.S.A. –-(AmmoLand.com)- The devastating attack that occurred in New York City today is proof positive that gun control does not work. Honest, hard-working people were going about their day. But due to the insufferability of the local and state governments, these people were completely disarmed and left to the mercy of the attacker. Even worse, the government was too little and too late in their response.
As a former police officer myself, I know the sad truth. We respond to events AFTER THE FACT. We rarely prevent them from occurring. What stops bad people is good people. Good people that are armed and carrying.
New York City's Mayor, Eric Adams, a former NYPD officer knows this too, and he honestly should know what stops bad people from committing bad acts. But he chooses not to. Instead, he resorts to the old song and dance of increasing the amount of police in NYC's Subways. But guess what, that has led to no positive effect whatsoever since it is just "security theater."
From February 21 to February 27 alone, there were 55 subway crimes reported. Yet, compare that exact timeframe from the previous year: it was 18 in 2021. NYC had a 205.6% jump in crime even with an increased law enforcement presence. You can actually track the crime report stats straight from the NYPD's own website.
Subway crimes stats increased 72.4% for the most recent 28-day period, and 72.8% year-to-date compared to the same time last year, the data shows. Hate crimes have jumped up 200% and the total crime index jumped up 47%.
This is now the norm for New Yorkers:
WANTED For an Assault: On Monday February 21, 2022 at Approx. 5:15 P.M, on the S/B platform of the East 241 St. Subway station, @nypd47pct an unknown individual struck a 43 year old female with human feces . Call @ 800-577-TIPS or DM NYPDTips Reward up to $3500.00 pic.twitter.com/pmuoWzsvIk

— NYPD Crime Stoppers (@NYPDTips) February 28, 2022
But it gets worse. New York State Solicitor General Barbara Underwood specifically mentioned why the subways are an integral part of why gun control must be enforced in NYSRPA v. Bruen.
Here is the convoluted argument that Ms. Underwood made before the US Supreme Court as to why Americans' civil rights need to be trampled.
The anti-gun stance put forward by Ms. Underwood, as the New York State Solicitor General, hinged on the twisted belief that police on the subway lines can stop crime.
As you and I fully know, that is never the truth. What could have stopped this horrific act was good people armed and able to defend themselves. The subways in NYC is a ripe target for neerdowells wishing to pray upon the innocent victims. Victims who were disarmed by the government, might I add.
The only solution to this is to expand the right to carry outside the home. The honest, law-abiding people of New York deserve the right to KEEP & BEAR ARMS as much as someone from Texas or New Hampshire does. Just because they happen to live in the Empire State or the Big Apple, doesn't mean that their rights are any less important.
Luis Valdes is the State Director of Florida and Director of Outreach for Puerto Rico & U.S. Virgin Islands for Gun Owners of America.
---
About Luis Valdes
Luis Valdes is the Florida State Director and the Director of Outreach for Puerto Rico & US Virgin Islands for Gun Owners of America. A life-long advocate of freedom and a firearms shooter, hunter, competitor, and collector. Luis is the first of his family born in the United States of Cuban Immigrants who fled Communism and who's family saw firsthand what gun control truly results in.