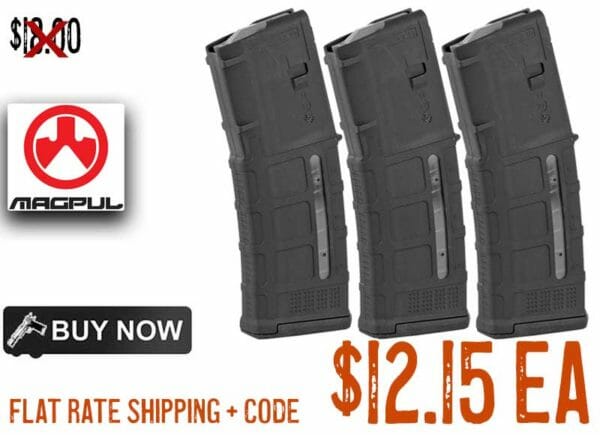 USA – -(Ammoland.com)- Tactical Surplus USA with a great price on Magpul PMAG M3 5.56 Window 30 round Magazines $12.15 each after coupon code "GEN3" at check out. Flat Rate shipping makes this a great deal when you buy the right number.
Magpul PMAG M3 5.56 Window Magazine

The next-generation PMAG 30 AR/M4 GEN M3 Window is a 30-round 5.56×45 NATO (.223 Remington) polymer magazine for AR15/M4 compatible weapons that features transparent windows to allow rapid visual identification of approximate number of rounds remaining. Along with expanded feature set and compatibility, the GEN M3 Window incorporates new material technology and manufacturing processes for enhanced strength, durability, and reliability to exceed rigorous military performance specifications.

Features :

30-round reliability and no stoppage
Anti-glare translucent Mag Level windows on both sides of the body along with a painted indicator on the spring allows for easy determination
Next-generation impact and crush-resistant polymer construction
The anti-tilt, self-lubricating follower ensures a smooth feed and magazine reliability
Constant-curve internal geometry, over-travel insertion stop on the spine, and a long-life stainless steel spring ensure smooth feeding
Modified dimensions allow for wider compatibility with non Colt-spec STANAG 4179 platforms

While the GEN M3 is optimized for Colt-spec AR15/M4 platforms, modified internal and external geometry also permits operation with a range of additional weapons such as the HK 416/MR556A1/M27 IAR, British SA-80″ FN SCAR MK 16/16S" and others.
Some Related Reviews:
Daily Deal Disclaimer: The product represented in this AmmoLand News announcement is a short-term money-saving deal we find at third-party retailers unrelated to AmmoLand Inc. Be forewarned that many of these "deals" will sell quickly or potentially expire in a few hours from the initial online publishing time or date. AmmoLand Inc. does not stock inventory or operate a shopping cart. When we find an exciting offer on gun products, we will be passing along those offers to AmmoLand News readers so you can try and save cash. When you leave www.ammoland.com to make purchases please be sure of what you are agreeing to buy and have applied all the appropriate coupon codes (subject to expiration out of our control) or taken the necessary steps to reproduce our highlighted deals in your shopping cart at these third party retailers. AmmoLand Inc (operating as AmmoLand News, at www.ammoland.com) is not responsible for changing prices, inventory availability, or expiration dates, discrepancies, or changes in product descriptions or models or for what you agree to purchase from these affiliate-link promoted websites. AmmoLand Inc can not correct, change, or help you return or warranty products purchased from other businesses online. All we can do is point out a few deals when we find them to help you save $$.
If you want us to email you each daily gun deal, subscribe to our daily email list.
Support AmmoLand News
Sign up for the Daily Digest email and protect the 2nd Amendment.
Consider checking our Gun Deals Coupon page and our past featured Daily Gun Deals page for additional savings from your favorite industry partners. Thank you very much for your support and I hope we save you some money by highlighting these sweet daily deals. Enjoy!
Disclosure: Some of the links below are affiliate links, meaning at no additional cost to you, Ammoland will earn a commission if you click through and make a purchase.