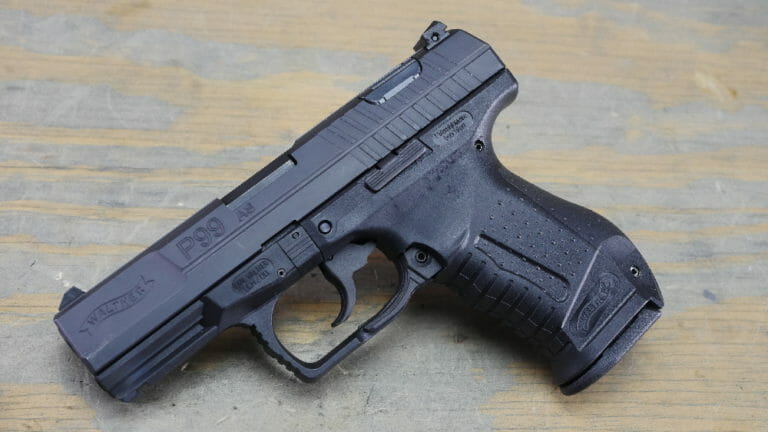 USA – -(Ammoland.com)- The Walther P99 is a pistol that many of us are familiar with, but very few have any appreciable experience with. There isn't a good reason as to why the innovative pistol didn't do better other than the heavy focus on ergonomics was a new concept in the late 90's as best I can tell. By all rights, Walther should have had a home run with James Bond's seal of approval as well as an impressive feature set when compared to competing pistols of the time.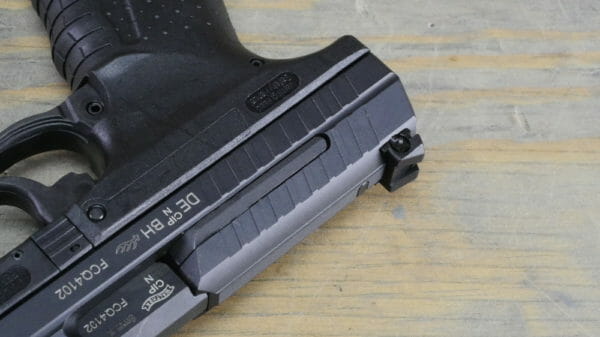 Walther P99 AS Pistol
Fast forward to the mid-2000s when I started getting into pistols heavily, and the P99 just didn't capture my attention. What I didn't know about the P99 at the time was how much it would influence pistol design going forward and how many other iterations the gun would spur, like the well-loved
Canik TP-9 series
,
Walther PPQ
guns, and the Q5 Match.
Walther commissioned the P99 as a replacement for the Walther P5 and P88 pistols, targeting not only the police and military market but also the civilian shooters. The new pistol would have a heavy emphasis on ergonomics and a class-leading 16-round magazine capacity for the 9mm variant.
The pistol was in the design phase at about the same time that Glock was taking over the US law enforcement market, and it only makes sense that Walther turned to a man that worked at both Glock and Steyr, Horst Wesp. The pistol would have a heavy focus on ergos and would feature a trigger mechanism that would make the transition from a service revolver to a striker-fired 9mm a thing of ease. Several police and military agencies adopted the P99, but the pistol never saw the widespread adoption that it probably should have.
Walther P99 AS Pistol Features
While the first iteration of the Walther P99 AS featured a 16-round capacity for the 9mm, later iterations like the P99 AS reduced the capacity to 15-rounds because some users had a hard time inserting a full 16-round magazine, aside from the interesting decocker button on the top of the slide, the controls are in line with what you would expect out of a Europian pistol of the late 90's to early 2000's vintage.
I will mention that I believe the P99 to have one of the better paddle mag releases out there. It is super easy to activate using just your pointer finger, thumb, or even a combination of the two. I personally prefer the longer lever style to the shorter one found on the USP series for no other reason than I find it easier to hit due to the longer length.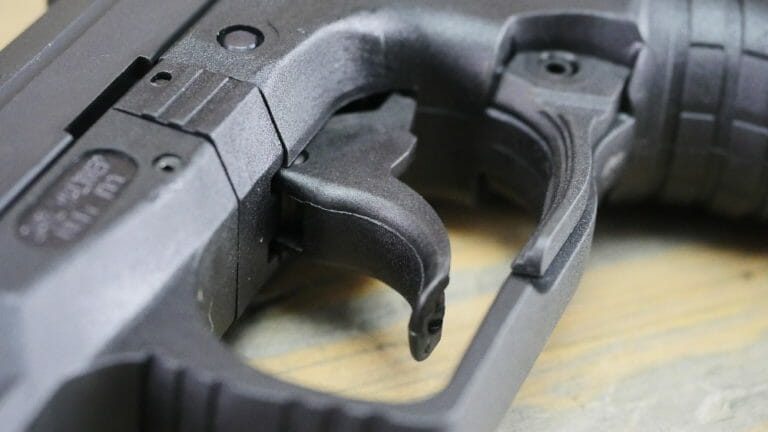 Wesp designed the P99 to accept interchangeable rubber backstraps to take the ergonomic focus to the next level. The pistol is shipped out with three of them, small, medium, and large.
The P99 AS' sights are nothing special, just a set of three white dots. They are better than plastic dovetail protectors on some other pistols, but something I would want to change before relying on it for any serious use.
Walther changed over from the proprietary rail to a more common universal-style rail during the P99s's production. When the P99 was introduced, there was no real set standard for pistol accessory rails but over time manufacturers settled on a loose standard which the P99 AS conformed to in the revised frame design.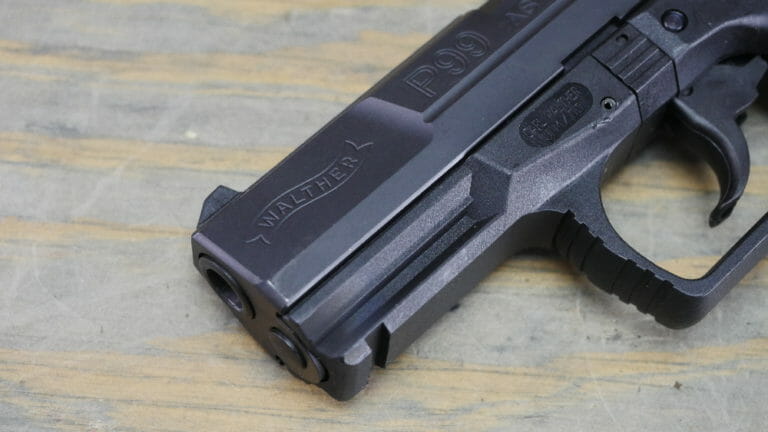 The Anti-Stress trigger is a strange beast in that while it is a striker-fired trigger, it is more like a DA/SA gun because it can be decocked via a large button on the slide. Some may love this feature but I personally am not a fan of it as it can be activated during remedial action. Sure, you can still pull the trigger, but you would be met with a hefty 9-pound trigger pull.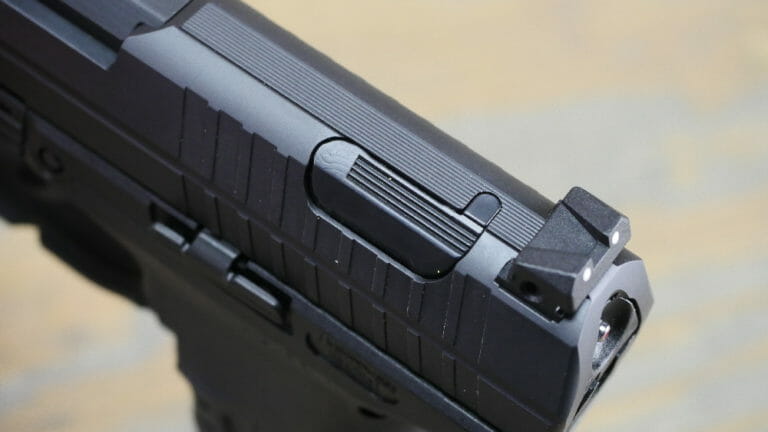 Shooting The P99 AS Handgun
The Walther P99 AS is fantastic to shoot despite it being a rather dated design. The amount of attention paid to ergonomics really shows once you get a firm grip on the pistol and settle the three-dot sights onto the target. But that firm grip also reveals one of the more dated aspects of the P99, its grip texture. In recent years both manufacturers and shooters have realized that an aggressive grip not only helps when drawing the pistol but it also plays a huge role in recoil mitigation. Sadly the P99 AS has a relatively smooth grip texture that is rather hard to lock down a solid grip.
Since I generally sight my red dot pistols in every time I buy a few thousand rounds of ammo, all I had on hand for the Walther P99 AS at the time was Blaser Brass 115-grain 9mm. That said, it shot rather well for an iron-sighted pistol both at ten and 25-yards.
At 10-yards, the P99 produced a 1.941″ 10-shot group that scored out at 100/00 with 5 X-ring hits.
The group opened up a touch at 25-yards, as you might expect. While some better ammo might have resulted in a slightly tighter group, the 4.10″ 10-round group is quite respectable for irons at this distance. The group scored out 93/100 with one x-ring hit.
Final Thoughts on the Walther P99 AS
Like with all pistols that come into my ownership, I carefully consider if the firearm will perform in my hands and, if there are things about it that do not work for me, how I will address those very personalized changes. I have mentioned many times that no one firearm is going to be optimal for every shooter. There is almost always something that a shooter will want to change. The more experience one has with firearms, the more likely they are to know exactly how they want that firearm to work.
In the case of the Walther P99, there wasn't a ton that I personally wanted to change beyond adding more aggressive grip to the pistol, a shorter trigger reach, and adding a red dot, as I prefer an MRDS over irons on a carry pistol.
That said, the Walther P99 AS is very serviceable and would be a fantastic choice for someone looking at Glock 19 size guns that aren't Glocks. It becomes especially attractive if you prefer a DA/SA hammer-fired pistol but are interested in transitioning to a striker-fired pistol. The P99 AS makes a great stepping stone, and you can pretend you are Bond at the range if you are into that sort of thing.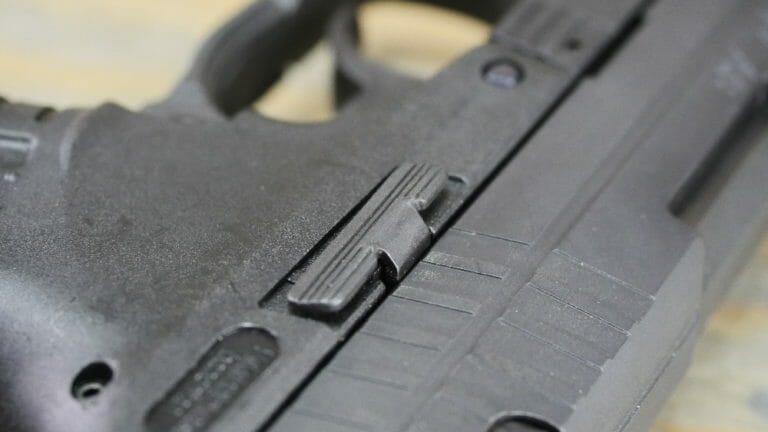 Find more information about the Walther P99 AS on the Walther website. Expected prices at online retailers hover around $550 as tested.
---
About Patrick R.
Patrick is a firearms enthusiast that values the quest for not only the best possible gear setup but also pragmatic ways to improve his shooting skills across a wide range of disciplines. He values truthful, honest information above all else and had committed to cutting through marketing fluff to deliver the truth. You can find the rest of his work on FirearmRack.com as well as on the YouTube channel Firearm Rack or Instagram at @thepatrickroberts.
Some of the links on this page are affiliate links, meaning at no additional cost to you, Ammoland will earn a commission if you click through and make a purchase.