U.S.A. –-(Ammoland.com)- After trying out an AR carbine and a 1911 pistol from Palmetto State Armory, we had to see what one of their pistols could do. They were gracious enough to get one out to us and let us take it for a spin.
AR Pistols and the Brace, a Brief History
The AR pistol has been around in one form or another since the 1980s. At first, they were seen as a novelty. The bare buffer tube made them a bit unsightly and most shooters saw it as useless. A few enterprising types would add a rubber crutch tip to the end to be able to "shoulder" the pistol briefly, but for the most part, they were an oddity to most serious shooters.
That began to change in 2012 or so when Alex Bosco and his company SB-Tactical produced a device known as the SB-15 Pistol Stabilizing Brace. The invention was born from an experience Bosco had with a disabled friend who was told to stop shooting an AR pistol at a public range because of his poor manipulation and handling skills.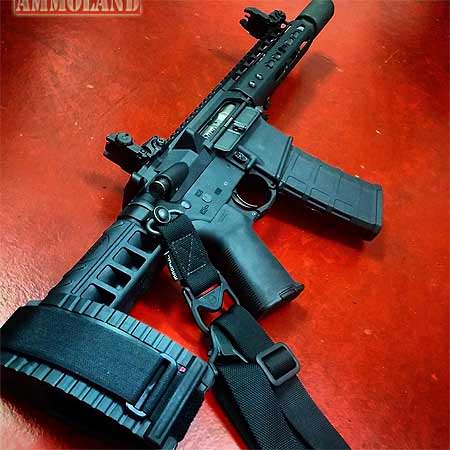 Bosco came up with a device that allowed disabled shooters to safely fire an AR pistol one-handed. A flexible rubber cuff attached to the buffer tube and wrapped around the shooter's wrist or forearm while a Velcro strap secured the brace.
In 2014, the brace debuted at the Annual Shooting, Hunting and Outdoor Trade (SHOT) show in Las Vegas, Nevada. Initially, the industry was skeptical but eventually, the design went mainstream with SIG Sauer adopting the brace and the SB-15 became known as the SIG Brace. A Bureau of Alcohol, Tobacco and Firearms (BATF) letter stated:
"Certain firearms accessories such as the Sig Stability Brace have not been classified as shoulder stocks and, therefore, using the brace improperly does not constitute a design change. Using such an accessory improperly would not change the classification of the weapon per Federal law."
The imitators soon followed, and braces began appearing everywhere. However, in less than a year BATF seemed to reverse itself in a determination letter dated January 2015 stating:
"If this device, un-modified or modified, is assembled to a pistol and used as a shoulder stock, the designing or redesigning or making or remaking of a weapon designed to be fired from the shoulder … this assembly would constitute the making of … an NFA firearm."
Things cooled down for the pistol brace for some time for nearly 2 years when the ATF
In a letter dated March 21, 2017, BATF reexamined its earlier position, which stated that shouldering a brace-equipped firearm could constitute the making of an unregistered short-barreled rifle (SBR) under the National Firearms Act (NFA). BATF now states:
"With respect to stabilizing braces, ATF has concluded that attaching the brace to a handgun as a forearm brace does not 'make' a short-barreled firearm because … it is not intended to be and cannot comfortably be fired from the shoulder. Therefore, an NFA firearm has not necessarily been made when the device is not re-configured for use as a shoulder stock — even if the attached firearm happens to be fired from the shoulder."
So, it was game on again for the brace.
The other big change with AR pistols was the popularization of 300 Blackout. In subsonic form, the round was ideal for a short-barreled firearm such as an SBR or a pistol. In this configuration, the firearm could be suppressed by using a 9mm suppressor in lieu of a more expensive .30 caliber rifle can.
These two attributes have made the AR pistol almost as popular as their full-sized rifle counterparts.
The Good
Build quality on the PSA pistol is extremely well-done. There are no gaps between upper and lower receivers. The 8.5″ barrel is 4150V Chrome Moly Vanadium Steel. It has a properly staked M16 bolt carrier, and the fit and finish is excellent. The aluminum hand guard is MLOK compatible with short sections of Picatinny on top for sights and or optics (not included).
What we really liked was the look, feel and function of the SB Tactical SOB Pistol Brace. This is much more streamlined than the original SB-15 brace which reminded us of putting a rubber boot on the end of a buffer tube.
Everything we have come to appreciate with PSA's complete rifles and home brewed parts is present in this 300 Blackout AR pistol.
The best part is the sub-$500 price tag.
The Bad
A minor issue we have with budget-priced ARs is that they are shipped sightless. We get it that manufacturers are trying to keep costs down to remain competitive in the flooded AR market, but it's the idea of guns being range ready out of the box. Sure, most shooters will add an optic or whatever sight system they prefer, but maybe someday we will see short-term throwaway sights like what Glock uses on their pistols. Not those actual sights, mind you, but the "placeholder concept".
Still, when that is the only point with which you can take issue, it should be a sign that PSA is doing something right.
At the Range
We remedied the lack of sights by mounting a Lucid Optics HD-7. This optic allows the shooter to choose from four different reticles with a 2MOA aiming point and two modes of brightness. Adjustments are made at 0.500 MOA per click for elevation and windage.
Once sighted in for the center dot in a circle reticle we were shooting around quarter sized groups at 50 yards and ringing steel plates at 100 using a variety of subsonic 300 Blackout ammunition.
The Reality
As with our review on PSA's rifle, we find this pistol to be a bargain based on accuracy, reliability and price tag. There are plenty of cheap AR pistols out there, many of questionable origin, but we have not found any of this quality to be priced as low.
We do not recommend this pistol so much as an "entry-level" firearm but one that should appeal to all shooters regardless of income-level or experience. PSA makes affordably priced firearms that work well.
 Specifications  
Barrel Length: 8.5″
Gas System: Pistol-length
Barrel Profile: Heavy
Barrel Steel: 4150V Chrome Moly Steel
Barrel Finish: Nitride
Chrome Lining: None
Muzzle Thread: 5/8-24
Chamber: 300 AAC Blackout
Twist Rate: 1 in 7″
Barrel Extension: M4
Diameter at Gas Block: .750″
Gas Block Type: Low-profile
Muzzle Device: A2 Style Flash Hider
Receiver Material: Forged 7075 T6
Receiver Type: M4
Handguard Type: PSA 7″ M-Lok Rail
Bolt Carrier Group Included: Yes
Bolt Steel: Carpenter 158
Bolt Carrier Profile: Full-auto
Charging Handle included: Yes
Lower Receiver: Forged 7075 T6 Aluminum
Receiver Finish: Hardcoat Anodized
Fire Control Group: Single-Stage, Mil-spec style
Grip: Classic A2 Grip, Black
Buffer Tube: 7075 T6 Aluminum
Adjustment: Fixed
Pistol Brace: SB Tactical SOB Pistol Brace, Black
Magazine:30 Round Aluminum
---
About Mike Searson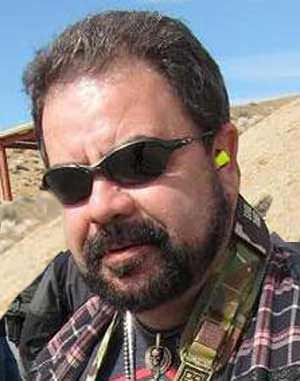 Mike Searson's career as a shooter began as a Marine Rifleman at age 17. He has worked in the firearms industry his entire adult life as a Gunsmith, Ballistician, Consultant, Salesman, Author and was first certified to teach firearms safety in 1989.
Mike has written over 2000 articles for a number of magazines, websites and newsletters including Blade, RECOIL, OFF-GRID, Tactical Officer, SWAT, Tactical World, Gun Digest, Examiner.com and the US Concealed Carry Association as well as AmmoLand Shooting Sports News.
Homepage: www.mikesearson.com
FB: www.facebook.com/mike.searson
TWITTER: www.twitter.com/mikesearson