U.S.A. –-(Ammoland.com)- I had been aware of Heritage Revolvers for a number of years but owning a few Ruger Single Sixes and a Colt Scout, always made me pass them over. That was until a new model of theirs caught my eye. They were offering a Rough Rider with a 16″ barrel.
Thoughts of the fabled "Buntline Revolver" came to mind and how I had often referred to my New Model Single Six with the 9.5″ bbl as "my pocket rifle". I had to try one out. I reached out to Heritage and asked for a sample for review.
They responded quickly and I had the revolver in hand in less than a week. Immediately it reminded me of something that Jack Nicholson's Joker would have pulled on Batman and of course a Colt Buntline Special.
The Legend of the Buntline Revolver
The story goes that Dime Novelist Ned Buntline was so grateful to Dodge City peace officers Wyatt Earp, Charles Bassett, Bat Masterson, Bill Tilghman, and Neal Brown for the color they supplied that he set about arming them as befitted their accomplishments. He ordered 5 nickel-plated Single Action Army Revolvers chambered in 45 Colt with 12″ barrels and detachable shoulder stocks with his name, "Ned", carved deeply into the walnut grips and each was accompanied by a hand-tooled holster modeled for the weapon. He called them "Buntline Specials" and allegedly presented them to each of the lawmen.
This was first mentioned in Stuart Lake's mostly fictional "biography" of Wyatt Earp titled Frontier Marshall. However, Colt Firearms, who keeps meticulous factory records, has no record of such an order. The company did manufacture Single Action Army revolvers with 12″ and 16″ bbl. lengths and detachable stocks for use as buggy rifles, but there is no record of any of the five lawmen, including Earp ever having owned one. Yet, this legend entered the historical record and the Buntline made appearances in TV shows such as The Life and Legend of Wyatt Earp and of course, Tombstone.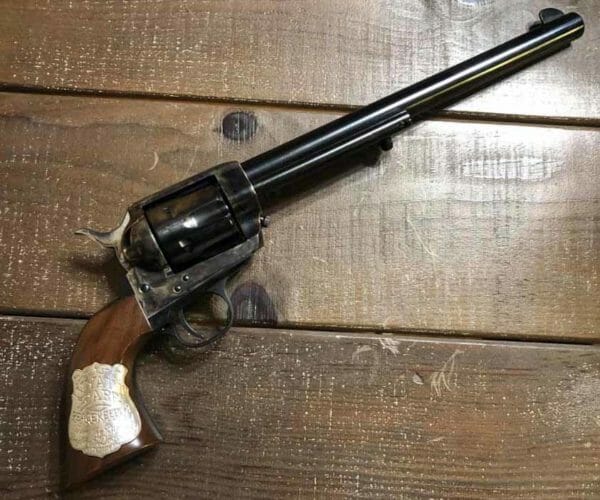 Back to the Heritage Rough Rider
The revolver is well-made and typical of most single-action rimfire revolvers. The 16″ barrel is an attention-getter and you almost expect a flag to pop out of the barrel when you squeeze the trigger. The matte blue finish was well-done and the only real complaint I had was concerning the uneven fitting of the rosewood grip panels.
Later, I learned that this revolver has a safety on the left-hand side of the frame. I had heard of a safety or read about it in passing and assumed it was in reference to the transfer bar.
I found out after I had loaded the cylinder, took aim at my target, cocked the hammer and squeezed the trigger. Nothing happened and I thought it was the ammunition. It wasn't until I had cycled through the cylinder when I remembered about the safety. After disengaging it and seeing the red colored dot painted on the frame, I fired the revolver.
My target was at 30 yards and because I was primarily shooting handguns that day, I neglected to bring along a spotting scope. I was not seeing a whole lot of activity on the target and had no idea if I was hitting or missing it completely.
When the RSO called a cease-fire, I walked downrange to see several multi-shot groups in and around the ten-ring measuring from 0.75″ to 1.37″. This long-barreled six-gun was putting my old Ruger Single Six to shame in the accuracy department.
The Good
For the money, you can do a lot worse. I found this particular revolver to be accurate, fairly priced and well-finished.
It may not be the most practical revolver in the world, but it is fun to shoot and an excellent conversation piece.
The Bad
It would be easy to harp on the finish of an inexpensive revolver, but let's face it. For the price you cannot expect high-polished blue, hard chrome or case hardening. My biggest gripe is that while the metal to metal fitting was fine, the wood grips could have been fitted better. Had this been a $700 revolver I would have considered it unacceptable, but for its price; it is something you can fix on your own. To their credit, I have not seen other Rough Riders with this same condition.
The inclusion of the safety is pointless to me, but there had to be a reason why they went with it, so as annoying as it is, I could get used to it or try to remove it completely.
The Reality
Most folks won't see a "need" for this beyond fun at the range or something to with which to nail tree rats at 25 yards. Sometimes that is all you need to bring a smile to your face on a lazy weekend out plinking.
It would probably be a bear to find a holster made for it, custom grips may cost as much as the revolver itself and you may need a rifle slot as opposed to a pistol slot to store it in your safe, but I had fun with it and would not hesitate to own one.
Brand: Heritage
Model: Rough Rider 16"
Caliber: .22 LR
Capacity: 6 Rounds
Action: Single Action
Barrel: 16″
Overall Length: 21.375″
Sights: Fixed
Frame: Alloy
Finish: Blue
Grip: Cocobolo
Weight: 45.82 oz.
MSRP: $169.95
Website: http://heritagemfg.com
---
About Mike Searson
Mike Searson's career as a shooter began as a Marine Rifleman at age 17. He has worked in the firearms industry his entire adult life as a Gunsmith, Ballistician, Consultant, Salesman, Author, and was first certified to teach firearms safety in 1989.
Mike has written over 2000 articles for several magazines, websites, and newsletters, including Blade, RECOIL, OFF-GRID, Tactical Officer, SWAT, Tactical World, Gun Digest, Examiner.com and the US Concealed Carry Association as well as AmmoLand Shooting Sports News.
Home page: www.mikesearson.com
FB: www.facebook.com/mike.searson
TWITTER: www.twitter.com/mikesearson