Letter to the AmmoLand Gun Editor Guidelines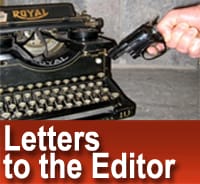 Manasquan, NJ – -(AmmoLand.com)- Have a strong feeling about something you read? Write a letter to the editor.
Letters exist to provide a forum for expanded public comment or debate. A letter to the editor is meant to express your opinion or point of view.
Maybe you have a insight into on one of our topics or maybe you want to get the word out about how you like or dislike a particular product, service, organization or public policy.  Let us know.
Guidelines For Letter To The Ammoland Editor:
Be TIMELY: Write your letter within a day of the article's or event date.
INCLUDE CONTACT INFORMATION: Include your full name, city, state, phone #, email address (we may call you to verify you really wrote the letter – we will not publish anonymous letters).
BE CLEAR: Make one main point.
BE CONCISE: 1- 6 paragraphs, 3-8 sentences, 40-600 words. Short letters show confidence and clarity  in your position.
BE ACCURATE: Letters that are factually inaccurate are not printed.
BE INTERESTING: Get your reader's attention and keep it to the end of your letter. Open with an interesting fact or strong statement and keep your points as interesting as possible.
AVOID PERSONAL ATTACKS: Show respect for the opposite opinion. Being rude may cause people to disagree with you on principle or get your letter tossed in the trash.
PROOFREAD: Re-read your letter. Check for grammar and spelling mistakes. If possible, ask another person to read your letter for accuracy and clarity. If it does not make sense to you we will just delete it.
IF YOUR LETTER IS PUBLISHED: If it is well-written we will print it and email you and let you know were you can see it.
In your email, use the following format:
HEADING
To the Editor: (You main point of the letter here)
Re: "headline", Date of article
BODY
1-6 paragraphs
CLOSING
Your full name
City, State
Your Phone #(we wont publish your phone number)
Your Email (we wont publish your email)
EMAIL IT TO US
Send it to [email protected]