New Insight Tech-Gear Catalogs Available For Dealers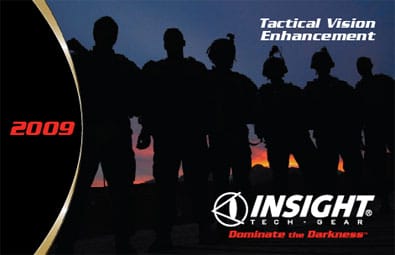 LONDONDERRY, NEW HAMPSHIRE — -(ShootingWire.com)- Insight Tech-Gear, the world's leading provider of tactical lasers, illuminators and thermal imaging equipment, has updated 2009 commercial catalogs available for dealers.
The new 2009 catalog showcases the complete line of Insight Tech-Gear commercial products with new photos, complete specs and a handy fit chart reference for rail-mounted lights. The catalog is ideally sized for distribution at the point of sale and takes up minimum counter space.
To order copies of the new 2009 Insight Tech-Gear Catalog for your store, simply contact Insight toll free at (877) 744-4802.
About Insight Tech-Gear:
Insight Tech-Gear, as the commercial arm of Insight Technology Incorporated, enjoys the long and highly respected heritage of the foremost developer and manufacturer of tactical lasers, illuminators and thermal imaging equipment for the U.S. Armed Forces. An ISO 9001 company headquartered in Londonderry, New Hampshire, Insight Tech-Gear is dedicated to providing market-driven, technology-enabled, awareness enhancing solutions to first responders, industry professionals, and responsible citizens.