­­­­­­­­­­­­­­Final Approach Adds Pintail And Wood Duck Decoys To Their Duck Decoy Line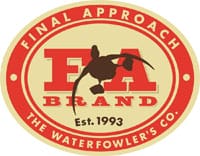 Overland Park, KS. –-(AmmoLand.com)- Waterfowl hunters for years have used more than one species of ducks in their decoy spreads to add variety and to appeal to several different ducks in their hunting area.
Even when one species is more prevalent in an area, adding a different species to the edge of a spread can help give wary birds confidence that what they are seeing is real.
Pintail and Wood Duck decoys have been the most requested decoys from Final Approach customers. These two decoys are being added to the Final Approach line in 2009.
The Wood Duck species has benefited from a number of efforts to build the population over the last twenty years. Today, you will see Wood Duck nesting boxes around lakes, ponds and along streams and rivers all over the country.
These efforts to provide this most colorful duck a place to nest have paid huge dividends with populations continuing to hold steady and in many areas increase.
The new Wood Duck decoys from Final Approach look so close to the real thing that they are hard to distinguish on the water. They come packed six to a box with two hen and four drakes. Weighted keels keep the decoys upright in a perfect position on the water.
The addition of Pintail decoys is especially effective when mixed in with a set made up mostly of Mallard decoys. In the western part of the US and Canada some hunters like to use larger numbers of these decoys in areas where the Pintail make up a bigger percentage of the duck population.
The new Pintail decoys from Final Approach duplicate the real bird down to the distinctive long tail feathers the Pintail is named after. Like other decoy models, the Pintail has a vivid paint scheme and is most lifelike in shape and size. They also have weighted keels to keep the decoys upright and in good position on the water. They come packed six to a box with four drake and two hen models.
For more information, visit www.fabrand.com or call consumer inquiries at 800-423-3537.
About:
Bushnell Outdoor Products is a global manufacturer and marketer of branded consumer products based in Overland Park, Kansas. Bushnell Outdoor Products sells its products worldwide under the Bushnell®, Tasco®, Serengeti®, Bollé®, Uncle Mike's Law Enforcement®, Stoney Point®, Hoppe's®, Butler Creek®, Kolpin®, Millett®, Uncle Mike's®, Final Approach® and Simmons® brand names. For information about any of these brands or products, please contact Bushnell Public Relations at (913) 752-6105.