Glock's Jessie Abbate Scores Steel Challenge Hat Trick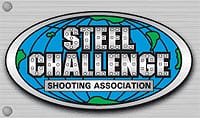 PIRU, Calif. —-(AmmoLand.com)- One thing is clear from the shooting clinic Jessie Abbate put on during the Steel Challenge, she needs a bigger trophy room.
Abbate, who lives in McDonough, Ga., set five new world records on her way to scoring a hat trick at the 2009 Steel Challenge World Speed Shooting Championships in Piru, Calif. where she won the Ladies Open Rimfire Pistol, Limited Pistol and Open Pistol titles. In addition to collecting top honors in three divisions, Abbate claimed the coveted Ladies Steel Master title which is for the best combined time of the three events.
Abbate, a Team Glock member, held off the defending ladies champion and Team Smith & Wesson member Kay Miculek of Princeton, La. who stalked Abbate through the match taking second place in all three events. Miculek has won the Steel Challenge an amazing seven times and held seven women's world records, four of which Abbate broke.
"Jessie really put on a clinic and her outstanding shooting through the entire Steel Challenge demonstrates how far she has come in the shooting sports. Hers is the standout performance of the match," observed Michael Voigt of the Steel Challenge Shooting Association.
This is the second time Abbate has taken top honors at the Steel Challenge. Her first win came in 2007.
In the Open competition, Abbate took the Ladies title with a time of 94.94 to outpace Miculek by 9.20 seconds. Abbate's time placed her 14th among all competitors in the Open division and was good enough for the 18th fastest time in the entire match. Third place went to Julie Golob of Team S&W with 106.87. Golob, a past Steel Challenge Ladies Champion who now lives in Glasgow, Mont., returned to the Steel Challenge after taking the year off to have a baby.
In the Limited Pistol competition, Abbate grabbed the ladies title with a time of 104.79 which put her 9th among all Limited shooters and over 17 seconds ahead of Miculek. Tasha Hanish of Scottsdale, Ariz. finished third with a final time of 141.66.
Abbate scored her highest finish in the Open Rimfire Pistol match where she placed sixth overall with a time of 77.95. Miculek claimed second with 82.93. Fellow Team Glock member Randi Rogers of Durango, Colo. took third with 92.12.
"One thing is for sure, Jessie is a force to be reckoned with on the range and any shooter, male or female, that underestimates her ability will find themselves among the disappointed when the final scores are announced," warned Voigt.
For complete results from this year's match and more information on the Steel Challenge and the Steel Challenge Shooting Association (SCSA) visit www.SteelChallenge.com.
About the SCSA:
The Steel Challenge Shooting Association (SCSA) is the governing body of the sport of Speed Shooting and organizer of the Steel Challenge World Speed Shooting Championships. To learn more about SCSA and the Steel Challenge visit SteelChallenge.com where you will find stage diagrams, complete results, a list of past champions, world record times and more.