Team S&W's Norris Defends Steel Master Crown At World Speed Shooting Championships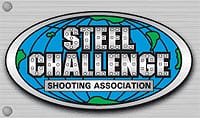 PIRU, Calif. —-(AmmoLand.com)- For the second year in a row Team Smith & Wesson's BJ Norris walked off with the Steel Master crown at the Steel Challenge World Speed Shooting Championships held August 13-15 in Piru, Calif.
The Steel Master title goes to the shooter who posts the fastest combined time from two main matches and the rimfire match. Norris won with a combined time of 246.25 seconds winning the Open Rimfire Pistol title, finishing second in the Limited Pistol match and taking second in the Open Pistol event.
Norris' 246.25 comfortably outpaced Steel Master runner up and Team Glock captain Dave Sevigny of Smyrna, Ga. by 8.93 seconds. Para USA shooter Todd Jarrett of Hopewell, Va. finished third, 16.15 second back of Norris.
The husband and wife team of Billy and Jessie Abbate of McDonough, Ga. came in fourth and fifth respectively. Billy ended up 25.02 seconds behind Norris while Jessie, a Team Glock shooter and the 2009 Ladies Steel Master, finished 31.43 out of first.
"The battle for Steel Master is always fierce and the pressure shooters face can be daunting. It's difficult enough to win the title once but to repeat took tremendous skill and determination on BJ's part," said Michael Voigt of the Steel Challenge Shooting Association.
The Steel Master title is one of the hardest titles to claim at the Steel Challenge because it requires the winner to shoot at a very high level across three days of competition facing the best shooters in the world. Only 26 competitors entered the Steel Master race this year with all four runners up adding to the pressure by competing head to head with Norris in the Open Rimfire Pistol, Limited Pistol and Open Pistol divisions.
For complete results from this year's match and more information on the Steel Challenge and the Steel Challenge Shooting Association (SCSA) visit www.SteelChallenge.com.
About the SCSA:
The Steel Challenge Shooting Association (SCSA) is the governing body of the sport of Speed Shooting and organizer of the Steel Challenge World Speed Shooting Championships. To learn more about SCSA and the Steel Challenge visit SteelChallenge.com where you will find stage diagrams, complete results, a list of past champions, world record times and more.