Rock Island Auction Premiere Firearms Auction December 4th, 5th, & 6th
OVER 2700 Antique and Collectible Gun Lots..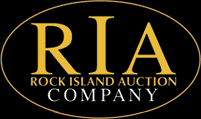 Rock Island Auction Company – -(AmmoLand.com)- Rock Island prides itself in offering high quality firearms for every level of collecting, serving the entire firearms industry.
In the December 4th, 5th, & 6th 2009 auction, collectors will gather to participate in another fantastic offering put on by Rock Island Auction Company.
As with every collection or hobby, there are various levels of collecting and this auction will have something for everyone.
Rock Island inspires the beginning collector, igniting the passion with high quality firearms starting in the low hundreds.
The mid-range collector has seen the value of gun collecting and has the opportunity to upgrading his collection.
The high-end collectors attend auctions at RIAC knowing that they can fill the holes in their collections finding that one missing piece or bidding on an outstanding, incredibly rare firearm that will become the centerpiece of their collection.
The December sale will offer several star-worthy items in several genres including derringers, Colts, Winchesters, antique firearms, sporting, military and more!
• A massive and comprehensive collection of Revolving Rifles and Pistols
• Over 500 Colts including Percussion Revolvers, Single Actions, Long Arms and rare
Colt Paterson carbines, shotguns and revolvers
• Hundreds of Quality Sporting Arms
• A Large Grouping of Confederate Pistols and Civil War Firearms
• Many U.S. Military Firearms
• 4 Henry Rifles
• Plus much more
Rock Island Auction Company is Still Looking For Consignments
Simple Contract, No hidden fees
We sell what is offered at auction
We know guns
We are still seeking consignments for the December Premiere Auction. For more information on sell at auction please call Patrick Hogan or Judy Voss: (800) 238-8022 or email us at [email protected]
PREMIERE FIREARMS AUCTION
December 4th, 5th, & 6th 2009
Full day preview Thursday, December 4th 2009
Contact Information
~~~~~~~~~~~~~~~~~~~~~~~~~~~~~~~~~~~~~~~~~~~~~~~~
phone: 800-238-8022
fax: 309-797-1655
email: [email protected]
About:
Rock Island Auction Company has been solely owned and operated by Patrick Hogan. This company was conceived on the idea that both the sellers and buyers should be completely informed and provided a professional venue for a true auction. After working with two other auction companies, Mr. Hogan began Rock Island Auction in 1993. Rock Island Auction Company has grown to be one of the top firearms auction houses in the nation. Under Mr. Hogan's guidance the company has experienced growth each and every year; and he is the first to say it is his staff's hard work and determination that have yielded such results.