Hearing Scheduled on Ohio's Restaurant Firearms Carry Bill HB 203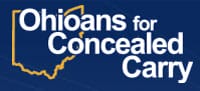 Ohio –-(AmmoLand.com)- House Bill 203, the bill Ohioans For Concealed Carry drafted in conjunction with Representatives Danny Bupb and Jarrod Martin, has been schedule for its first reading and sponsor testimony to the Public Safety and Homeland Security committee on Thursday, November 5 at 9:30am in room 114.
This important fix would add restaurants to the current exemption that covers class D retail stores provided the licensee is not consuming alcohol.The bill was cosponsored by 16 other legislators, including Representatives Adams, J., Amstutz, Blair, Combs, Hall, Huffman, Jones, Jordan, Maag, McGregor, Sears, Snitchler, Uecker, Wachtmann, Wagner, and Zehringer.
While this hearing is for sponsor testimony over (the public will get an opportunity to comment at the second and third readings), it is important that we show the committee that there is strong support for passing this legislation.
If you are able to attend this hearing, we urge you to join us. If you have one, please wear your blue OFCC shirt and khaki pants so we can show unity.
Even though we will not have an opportunity to testify, the first hearing often determines whether or not there will be a second hearing. The second hearing is proponent testimony and obviously we will want to pack the room for that one, but the first and third (opponent) hearings are important to have representation at as well.
If you are planning to attend, parking is usually available under the statehouse. Various puplic parking garages are available around the statehouse.
About:
Ohioans for Concealed Carry, founded in 1999, is a grassroots political activist organization. When founded, the primary goal of OFCC was getting concealed carry passed into law in Ohio. With that accomplished, our mission became to refine the concealed carry law and to expand and preserve the rights of all gun owners in Ohio. Visit: Ohioccw.org