Premiere Firearms Auction 4 Days To Go – Are You Ready?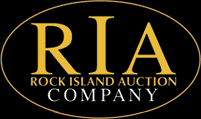 Rock Island Auction Company – -(AmmoLand.com)- Four days left until the most diverse auction in Rock Island Auction Company's history!
If you have not submitted your bids, now is the time, first bid submitted wins the item in the event of a tie.
Bidding Options:
Use our secure website – How To Bid On Website
Use the bid form in your catalog and fax it in. Or download a bid form fill it out and fax it in.
Call us your bids, 800-238-8022
Email us your bids [email protected] (please include lot number and a brief description of item) example: Lot 79 – Winchester Model 12 – $1,000
If you have a document already prepared you can fax it to 309-797-1655
Call us or use the website to register as a Telephone Bidder. We will contact you prior to the lots you are bidding on using the telephone number(s) you provide us. Please submit telephone bids the day before in order for us to process them.
Attend the auction and bid live!
The Largest Grouping of Revolving Rifles and Pistols to Ever Come to Auction!
A massive and comprehensive collection of over 100 revolving rifles, shotguns, and pistols, as well as turret and harmonica arms.
Over 700 Colts
Over 200 Outstanding Winchesters
One of the Largest Collections of Confederate Arms to Come to Auction
Including over 200 Civil War arms, over 30 Confederate arms, a large group of outstanding Sharps rifles, many civil war carbines and long arms and an impressive group of Civil War revolvers.
Over 400 Quality Sporting Arms
Sporting rifles from Winchester, Browning, Westley Richards, Wells & Wells, Merkel, Alexander Henry, Cogswell & Harrison, Griffin & Howe, Mauser, Steyr, J.P. Sauer, Shilen, Dakota Arms, CZ, Sako and others.
Over 150 Incredible Deringers
Including exceptional Moore Derringers, Remington Pocket Vest Deringers, antique and curio type weapons and a nice selection of martial arms.
European, U.S. and Japanese Military
Many unique or prototype military arms, a comprehensive collection of military arms and militaria.
Other items in this auction include:
German medals and other militaria from a 50 year old collection, German military daggers, a Rampant Colt statuette in gold and silver measuring 3 1/2″ tall, excellent bronzes including a silver statue of Kaiser Wilhelm II, many U.S. swords in fine condition, over 50 Bowie or Bowie type knives, and a rare Winchester 1884 factory bullet board.
AND MUCH MORE!
The items above are just the beginning, we have over 2,800 lots. If you did not get a catalog you can still find everything on our searchable website catalog.
BRING YOUR CONSIGNMENT TO THE DECEMBER AUCTION!
We will be accepting consignments during the December auction. If you plan on attending and have an item you would like to consign, it will save you the trip!
Call 800-238-8022 for more details or to make an appointment.
Auction Details:
Rock Island Auction Company announces the next Premiere Firearms auction to be held at their facilities in Moline, IL. The huge success of our previous sales proves that people are investing in what they know: firearms are solid investments that hold value through economic downturns.
Investing and collecting opportunities abound at Rock Island's fantastic Premiere Firearms Auction December 4Th, 5Th, & 6Th. At a time when the stock market changes daily, gun collectors are seeing the worth of their investments.
Hard assets are the place to invest your money and gun values continue to rise. This auction has firearms for every level of collecting and investing from Colts to Winchesters and the hundreds of high quality sporting arms. Rock Island's continued sell through rate of over 97% proves that items that come to RIAC are for sale and now is your chance to make a solid investment.
About:
Rock Island Auction Company has been solely owned and operated by Patrick Hogan. This company was conceived on the idea that both the sellers and buyers should be completely informed and provided a professional venue for a true auction. After working with two other auction companies, Mr. Hogan began Rock Island Auction in 1993. Rock Island Auction Company has grown to be one of the top firearms auction houses in the nation. Under Mr. Hogan's guidance the company has experienced growth each and every year; and he is the first to say it is his staff's hard work and determination that have yielded such results.