Unsung Hero Award from Outdoor Life Goes To Howard Robinson of U.S. Sportsmen's Alliance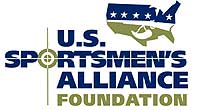 Las Vegas, NV –-(AmmoLand.com)- Howard Robinson, a long time volunteer leader with the U.S. Sportsmen's Alliance (USSA), was presented yesterday with the "People's Choice Unsung Hero" award from Outdoor Life magazine.
The award recognizes Robinson's many achievements in advancing conservation throughout the years in his home state of Arkansas and was given to him during a ceremony held at the 2010 SHOT Show.
"Howard epitomizes being a go to guy," said Doug Jeanneret, USSA vice president of marketing. "He has become a nationally recognized leader with all of his fundraising efforts to save our outdoor heritage and the thousands of hours he has spent instructing youth and others new to the outdoors. Howard continues to go beyond the call of duty for the outdoors."

Robinson has served as a local field director (LFD) for the USSA for years, been the vice president of the Old Fort Gun Club and an officer for the Arkansas Trappers Association. He initially was included in the prestigious Outdoor Life 25 for 2010. In its third year, the program "honors 25 men and women who have changed the face of hunting and fishing."
The list is made up of volunteers, product developers, wildlife managers and other advocates who are listed in several different categories including: Conservationists, Innovators, Leaders and Unsung Heroes. Robinson was placed in the Unsung Hero category due to his tireless advocacy and education efforts on behalf of sportsmen. Readers were then given a voice to select the individual they felt most deserving of the "People's Choice Award" by voting online through the end of 2009.
The U.S. Sportsmen's Alliance is a national association of sportsmen and sportsmen's organizations that protects the rights of hunters, anglers and trappers in the courts, legislatures, at the ballot, in Congress and through public education programs. For more information about the U.S. Sportsmen's Alliance and its work, call (614) 888-4868 or visit its website, www.ussportsmen.org.