M91 BDR "Breakdown Rifle" from AWC Systems Technology
Breaks From Standard Breakdown Rifle Configuration.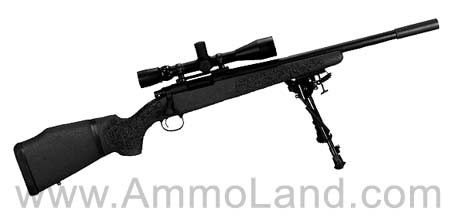 PHOENIX, AZ —-(AmmoLand.com)- When firearms enthusiasts think of breakdown rifles, many picture a rifle breaks at the breach which can affect zeroing and accuracy or at the wrist where a rifle stock is its weakest, sacrificing stock strength.
AWC Systems Technology's M91 BDR (Breakdown Rifle) breaks from the norm and separates the stock at its strong point.
"The AWC M91 BDR breaks at the strong point on the stock to maintain stock integrity and to ensure that the rifle maintains its zeroing and accuracy, which can make the difference between success or failure."
The M91 BDR's match-grade fiberglass stock with a Pachmayr decelerator recoil pad with 13.5-inch L.O.P. can be quickly broken down or assembled using two alignment rods and a steel anchor rod. The action is a Remington 700 BDL action that is fully accurized with a tuned trigger. Standard customizable configurations offer either right- or left-handed bolts and are available in .308 WIN or .223. The barrels are manufactured from medium-weight chrome moly with match chamber and crown in 16.5- or 18.5-inch lengths. Other calibers are available in custom orders.
A pelican hard case with custom cut foam and a preset "T" handle torque wrench is standard. Additional accessories include a HyperDyne muzzle brake, AWC's Thundertrap suppressor, fast-action bolt knob and LMS bipod.
AWC Systems Technology has provided suppressed weapons systems to the U.S. Army, Navy, Air Force and Marine Corps, major law enforcement agencies nationwide, the Department of the Interior, the Department of Energy, federal and state correctional facilities and Special Forces units in Central America and the Middle East. AWC Systems Technology now sells to consumers who want to experience the comfort, accuracy and enjoyment of shooting with the advanced technology, quality and durability found in AWC Systems Technology products.
For more information about the AWC M91 BDR, visit awcsystech.com. Call Chris Short 623.780.1050.
About:
AWC has been delivering world class suppressor technology since 1983. Located in Phoenix Arizona, AWC provides suppressed weapons systems to the U.S. Army, U.S. Navy, U.S. Air Force and the U.S. Marine Corps as well as Law Enforcement agencies, the Dept. of Energy, Federal and State correctional facilities, the R.C.M.P. and Elite Special Forces units worldwide.
Learn more about AWC Systems Technology by visiting www.awcsystech.com.