Athlete Shooter of the Month: Jamie Beyerle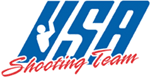 COLORADO SPRINGS, CO –-(Ammoland.com)- Fatigue? Check. Sinus Pressure? Check. Poor balance? Check. Gold Medal? Check. National Record? Check.
Brushing aside her cold symptoms and rising to the top at the World Cup USA in Women's Rifle 3 Position was Jamie Beyerle. Comfortable with the stress and demands of a world-class athlete, Beyerle not only tied her National 50m Smallbore Rifle 3 Position "Women w/ Final" Record (set in 2002 at the Fall Selection Match), but she also set a new record in Women's Match Score.
Beyerle shot for an unprecedented 592 points in the match and followed it up with 96.7 point final. Though not the best final, her initial six-point lead left the competition in the dust.
Rifle National Coach Dave Johnson expressed his praise saying, "Jamie has earned her world-class level through pure hard and smart work. She was ill during the World Cup, but maintained a level of performance that will contend for the Gold anywhere, anytime."
A native of Lebanon, Pa., Beyerle currently trains at Fort Benning. Moreover, this 2008 Olympian is well on her way to securing a spot for the 2012 Games in London. With each World Cup medal – silver in Sydney and gold in Fort Benning – she comes one step closer to repeating her Olympic dreams. Let's not forget she is a multi-talented athlete who shoots both Women's 50m Rifle 3 Position and 10m Air Rifle. Beyerle also claimed Olympic Team qualification points in Air Rifle as she finished sixth at Fort Benning and received silver in Sydney. With one World Cup yet in Belgrade, Serbia, she may qualify for both events in points alone. And performance like that…deserves USA Shooting's Athlete of the Month distinction.
ELEY is a Proud Sponsor of the USA Shooting Rifle and Pistol Teams: ELEY Limited, manufacturer of the world's most consistently accurate rimfire ammunition, has been the Official Sponsor and Official Supplier of .22 rimfire ammunition of the USA Shooting rifle and pistol teams since 2000. For more information on ELEY and their products, please visit www.eley.co.uk.