Women's Outdoor Media Association Plans First Retreat
Olympic biathlon twins sign on for membership.
by Deb Ferns
Charlotte, NC –-(Ammoland.com)- A few weeks ago several members of the Women's Outdoor Media Association attended the annual NRA Meetings and Exhibits in Charlotte, N.C.
It was an AWESOME experience, between outstanding speakers, a record-breaking number of exhibitors and attendees, plus a wonderful response to The WOMA's hospitality suite hosted throughout the Saturday of the convention.
In a few weeks, my video editing guru, Marilyn Vogel of ProVideos 4 U, will have finished a webisode filmed at the NRA event. We'll post the video at the website, www.thewoma.com, so you'll have the opportunity to meet a variety of interesting new WOMA members, including Olympic Biathlon twin sisters, Tracy and Lanny Barnes.
The Barnes sisters, along with several other men and women of all ages and media backgrounds, are exactly the "breaths of fresh air" that our outdoor industry needs, especially if we hope to continue to encourage mainstream media to cover our industry in a pro-gun way—and we do!
As the camp director of Babes with Bullets, I know that at almost every BWB camp across the US we enjoy pro-gun mainstream media coverage (check out the newest pieces from NBC and ABC at the Babes With Bullets website.) Whether at Babes with Bullets or other arenas of The WOMA based on hunting, fishing, the shooting sports and archery, the goal of The WOMA is to build a unique human interest story about and around women, not a story about political parties or turf wars.
The saga of Tracy and Lanny, from their World Cup wins, to their experiences at the 2010 Winter Olympics, and now their goal of the 2014 Winter Olympics, is just one of many intriguing storylines. Visit Tracy and Lanny's website at www.TwinBiathletes.com.
The gals are actively building their sponsorship and fan base, and I believe The WOMA is the perfect vehicle to help them with that task! WOMA President Barb Baird and I are already talking about traveling to Russia for the 2014 Olympics so we can cheer on our fellow WOMA members in their quest for an Olympic medal, so stay tuned for more information as time goes on.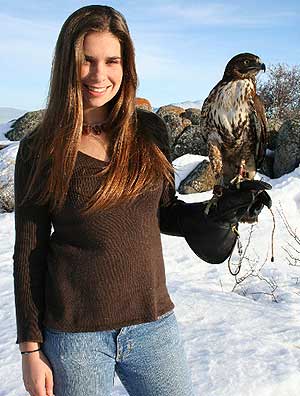 We're also hoping that Tracy and Lanny can make it to the first WOMA retreat to be held at Gunnison, Colo., from Friday, October 8 to Tuesday, October 12. This retreat, with housing provided at Three Rivers Resort, is being arranged through another outstanding member, Katherine Browne, of the Prois Pro Hunting Staff. Katherine has put together for us a wonderful (and significantly discounted) package including grouse hunting, fly fishing and something I've wanted to do for years: working and hunting with falcons. How cool is that!
We have a large lodge reserved and can accommodate a total of 12 people for this event, though several spots were already spoken for as soon as we announced the retreat. So far we have three couples and two other members. If you're interested, please contact me by e-mail ([email protected]) ASAP, as it takes a deposit of $100 per person to hold your spot. We estimate the cost for lodging, chipping in for food, a one-day grouse hunting license, a full day of fly fishing, etc. will run roughly $450 per person for the whole event. This is a great program offered at a discount for The WOMA, though due to lack of slots we are limiting this event to adults only.
I hope to meet more of you at the October retreat and in the meantime please submit your articles, photos, short blogs (whatever) to The WOMA so we can see what you are doing in your outdoor life! If you are not a member of The WOMA, please consider joining. Take a look at our headquarters, our weblog at www.thewoma.com. Maybe we'll see you in Colorado in October?