Win a Henry Golden Boy Rifle on NRAhuntersrights.org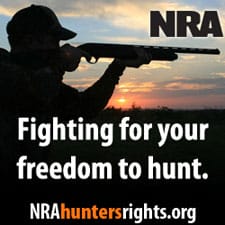 Fairfax, VA--(Ammoland.com)- During the month of July, visit www.NRAhuntersrights.org for a chance to win a truly elegant yet dependable firearm that will stand up to years of use—a Henry Golden Boy.
The excellent fit, finish and overall design elegance of Henry's Golden Boy make it a testament to fine gunsmithing. The Golden Boy's 20-inch blued octagonal barrel, American walnut stock, adjustable buckhorn-type rear sight, brass buttplate, and gleaming Brasslite receiver transport you back to the days of America's Old West, when company founder Benjamin Tyler Henry designed the original Henry lever action rifle.
The Golden Boy offered for the giveaway is a .22 S/L/LR and will handle 16 .22 LRs. It's also available in .22 Magnum and .17 HMR. Small game hunters and plinkers will appreciate the excellent balance afforded by the Golden Boy and its comfortable 6 ¾-pound weight; the Henry's famously smooth lever action opens and shuts with effortless slickness. As Henry says, this rifle is made in America and priced right, retailing for $515.
To enter, visit www.NRAhuntersrights.org and scroll down to "Gift Giveaway" for simple entry instructions. Entries will be accepted July 1 to July 31, and a winner will be announced on Aug. 1st 2010.
In addition to entering our giveaway, we invite all hunters to submit their hunting photos for our Trophy Gallery. Simply e-mail your photo to [email protected] and put "Trophy Gallery" in the subject line. All photos should be sharp, tasteful, and display safe gun handling practices.
Include the following information with your submission:
Your name and hometown
Date and location of the hunt
Firearm used
Type of species
For the most up-to-date information about your hunting rights there's just one source: www.NRAhuntersrights.org. To learn more about Henry Repeating Arms Co., or to get a copy of Henry's free color catalog, visit www.henryrifles.com.