Announcing The Larry Vickers Signature Series Daniel Defense M4 Carbine
This is a limited edition of 250 carbines.
Fayetteville, NC –-(Ammoland.com)- The folks at Daniel defense and I have been talking about doing a Vickers Tactical signature carbine since last year but only recently did we get our collective heads together to make it happen.
They are busy with government contracts as well as civilian customers and I have never been busier in my life since adding "firearms TV show host" to my list of duties.
In addition, only within the last year have they got on line with not only hammer forged barrels but lightweight or so called 'pencil' hammer forged barrels as well. Add to this some new accessories hitting the market and clearly it was time to make this rifle a reality.
The base carbine is essentially a DD M4 with a lightweight barrel. I was involved to a small degree with bringing that rifle to the market and I thought we did a great job then and I still do now. The barrel of course is made to mil spec standards and materials with a chrome lined 1 in 7 inch twist, except with a profile that drops a significant amount of weight. We added the top of the line RIS II rail system, the exact same one chosen by SOCOM for the SOPMOD block II contract, except in black. The RIS II in black has been nearly unobtainable so we felt that this premium quality carbine deserved a special rail and the introduction of the first Daniel Defense rifle to have a RIS II as standard equipment is a great start. And of course like all RIS II rail systems the bottom rail panel is removable to allow the end user to mount an M203 grenade launcher if need be.
No match trigger is fitted as I am very skeptical of them; after being an early proponent of the idea of a refined trigger in a truly combat worthy M4 carbine I have seen my fair share of problems with the concept. One bitten twice shy is my motto on this, so until I see one that I think is really bombproof I won't have one in a Vickers Tactical carbine.
The rear sight is the excellent DD A1.5 fixed rear sight and standard pinned front sight / gas block assembly that protrudes thru a hole cut into the rail system. The DD rear sight was another product I was involved with that I am proud of; a really good piece of kit. To go along with this is the superb Aimpoint Micro T1 mounted in the DD Micro mount. This mount was designed to be a companion piece to the A1.5 rear sight and puts the irons in the bottom 1/3rd field of view. This whole setup is lightweight, strong, sleek and makes for a great red dot/back up iron sight aiming system.
The buttstock is the excellent VLTOR IMOD in brown. Magpul products on the carbine consist of the polymer trigger guard, pistol grip, anti tilt follower and low profile base plate installed on the aluminum Brownells magazine in brown. This was the only brown magazine on the market that I felt was up to my standards and my test mags have performed flawlessly. Remember however that like all USGI type aluminum magazines it should really be considered a 28 round mag, not a 30 rounder.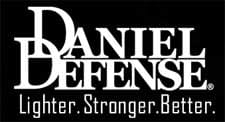 I added a Bravo Company gunfighter charging handle to the package but in the shortened mod 5 format (which was made at my request) and with radiused edges. I was luke warm on the mod 3 & 4 versions of this product but the mod 5 is a winner. As we move forward on the carbine the RIS II sports Ergo rail ladders in brown as well as a DD convertagrip stubby in brown. In the past I have never been a big vertical foregrip fan but the next piece of kit and it's location changed that forever; the Surefire X300 mounted at the 12 o'clock position in front of the front sight. The best location I have tried to date for white light placement on a fighting gun. It allows you to use your thumb to activate the light from either side and is low enough you can see your irons over top. The convertagrip stubby is used as leverage to perform this by choking up on the rifle and getting your hand higher on the rail. This allows for excellent weapon control and provides excellent access to your white light without the possibility of masking the light while clearing corners. In addition the X300 provides alot more useable light than the older X200 and works great on a carbine or a pistol. In short a great white light setup.
The flash suppressor is from Surefire also and doubles as a mounting interface for their 556k shorty suppressor. Of course all this is topped off by the famous Vickers Combat Applications Sling (VCAS) exclusively manufactured by Blue Force Gear. This particular version is the padded variant in brown with the polymer adjuster. It is mounted up front on the carbine with a QD sling swivel into a DD swivel adapter with limited travel – meaning the sling cannot swivel 360 degrees and get twisted like a pretzel. It is attached in the rear thru the sling slot molded into the VLTOR IMOD and not with a QD sling swivel because the attachment point in the rear is not limited travel.
Last but not least the V lightning bolt logo is etched into the lower receiver on the right hand side so as to designate the rifle is one of a limited edition of 250 carbines. This first edition will never be made again in this exact configuration; DD and I may make some other signature rifles but not setup like this one that is for sure.
So there you have it – the first ever Vickers Tactical carbine. I have resisted the urge to do one in the past and I wanted to make sure it was worth the wait. If my prototype is any indication I think you will dig it – I know I do.
Go to DanielDefense.com to order your Vickers Signature Series Carbine today.
Cheers,
Larry Vickers
Vickers Tactical, Inc
About:
Larry Vickers is a retired career special operations soldier with 20-plus years of service to our country. A longtime 1st SFOD- Delta operational member, he was a key player in the small arms marksmanship expertise and weapons selection of that Unit. He brings a very unique set of skills to the market, and has a wide and varied background in the firearms industry.
Visit www.vickerstactical.com