RAP4 NEW M4 Carbine Furniture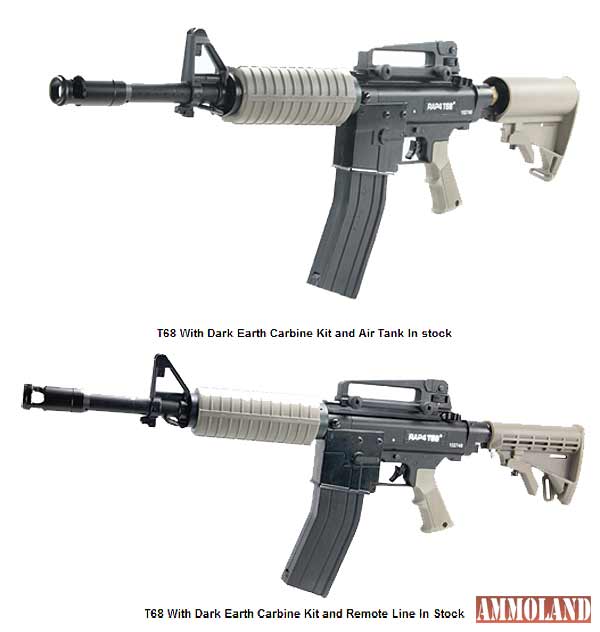 San Jose, CA –-(Ammoland.com)- Real Action Paintball is proud to introduce two dramatic concepts, and a whole lot of color, to accessorizing your T68 marker.
To complete the M4 look, and vastly improve its functionality, you need a multi-position collapsible stock…and you need it in colors that complement your environment and other gear.
Better yet – how about hiding a 5oz CO2 or 13ci HPA tank inside of that stock, doing away with remote lines and external tanks entirely? RAP4 makes it happen…and puts those stocks together with matching handguards, so you can coordinate your entire marker.
The T68 Paintball Gun M4/M16 Carbine Kits come in your choice of colors, including foliage green, dark earth, olive drab, black, and for very special applications, red and blue as well. The kits come with upper and lower handguards and the multi-position collapsible stock – swap them out in moments, and you'll be ready to rock!
Kits featuring the standard collapsible stock also come with an M16-style pistol grip in matching color!
For owners of Tippmann, BT, Spyder, and other tactical markers, you can even purchase an M4 Carbine Kit that attaches directly to your marker…and they're available in two hot configurations and all five colors!
When you want to attach an air source directly to your marker, but don't want to hang a full size tank off of it or wrap yourself in a remote line, here's your solution: the 5oz/13ci Carbine Kit! By slightly enlarging the tube at the heart of the collapsible stock, RAP4 engineers have designed a unit that allows you to install that mini air tank directly on your marker, then cover it up with the fully functional collapsible stock! Slide it forwards to shorten your marker for CQB, slide it backwards to extend your length of pull for more comfortable, and more solid, long-distance shooting.
Both kits are available in those custom colors, so you can match your marker to the olive drab in your BDUs, the dark earth in your tiger stripes, or the foliage green in your digital cammies…or go with standard-issue black. There are special police and military uses for the red and blue furniture kits, but you might just use them to indicate which team is which – the story of red vs. blue as told in the colors of your markers!
RAP4 is your only source for these M4/M16 Carbine Kits…and puts you in control with two styles and six color choices! Complete the mil-sim look, feel, and function of your T68…today!
Real Action Paintball – As Real as it Gets!
About:
RAP4 is recognized as a leader in compressed air-powered marking technology, with patented innovations for military and law enforcement tools and industry-leading paintball sport equipment. Headquartered in San Jose, California, RAP4 has distributors across America and around the world. Trained staff members are available by phone or in person for consultations, and to troubleshoot or train your personnel on use of their equipment. visit www.rap4lesslethal.com