Roy Hill – AmmoLand Outdoor Writer Biography Series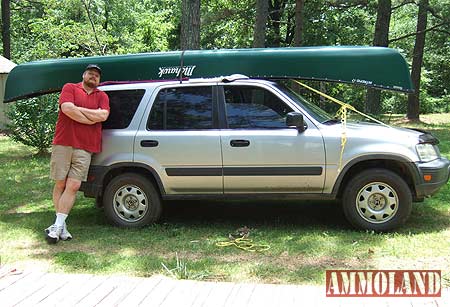 USA- -(Ammoland.com)- Roy Hill learned to shoot at the age of eight when he got a Daisy BB gun for Christmas, only it wasn't a Red Ryder, and certainly didn't have a compass in the stock.
He never once shot it out with Black Bart or his gang of outlaws. Miraculously, he still has both his eyes, although he does need glasses now.
That Christmas BB gun eventually led him to compete in the 4-H BB-gun program, and while "B" does rhyme with both "T" and "P," it led to neither trouble nor pool, and he never got anywhere near River City. Instead, the BB-gun competition led him to shoot a.22 Anschutz rifle for the Upper Arkansas River Valley 4-H Shooting Sports team, and he won a pair of state championships during high school. When he wasn't shooting a lot, Roy both played high school football and marched in the high school band, and eventually ended up a tuba player for the University of Arkansas Marching Razorbacks. But he didn't let that turn of events hold him back for long.
Because he still loved to shoot guns, he finagled a way to join the University of Arkansas Pershing Rifles air rifle team as a non-ROTC member. Despite the band and the rifle team, and a lot of other things he'd rather not talk about, he somehow managed to earn two degrees in English, first a BA cum laude, and then a Masters Degree in English and American Literature.
Roy Was Plagued By The Unseemly Habit Of Writing
All this time, Roy was plagued by the unseemly habit of writing, which he first picked up in grade school when he was asked to produce copy for what passed as the Waldron Elementary school newspaper. His equally suspect habit of reading stuff seemed only to feed his habit of writing stuff, and the confluence of the two is probably what led him down that dark road to perdition known as "majoring in English."
After his time in the college marching band ended, Roy wanted another way to get into Razorback football games for free, so he decided to masquerade as a sports writer for the Arkansas Traveler, the student newspaper at the university. While his plan worked at first, he discovered, too late, that Dr. Hunter S. Thompson was most certainly correct when he observed that journalism is a "habit worse than heroin." Before long, Roy found himself far gone into the gonzo world of hacking sports copy for whatever newspaper would pay him even the smallest pittance.
It got so bad that he found himself attending junior high football games where he wasn't related to any of the players, and then, worst of all, loitering around the sports desk at odd hours on nights and weekends.
Eventually, the cruel world of dank press boxes littered with old paper cups smelling of spat-out sunflower seeds sucked him in entirely, and he fell in as a full-time sports writer with the Benton County Daily Record in Bentonville, Arkansas. Oh, there were still the bright and happy times now and then. But mostly it was a never-ending grind of high school football and basketball, beef jerky and box scores, deadlines and the dreaded inverted-pyramid lead. On his really dark days, it was 140-mile round trips to write ten column inches about junior high girls' volleyball, or chilly afternoons at early season baseball games that seemed to last for eons.
On other days it got really weird, freaky stuff, like a feature on a local dentist who doubled as a semi-pro water skier, or the ex-pro wrestler turned high school strength coach.
There was the humiliating day when he masterfully interviewed an NBA power forward at a basketball camp, only to discover when he returned to the newsroom that his tape recorder's pause button had been on the whole time.
One Day He Went To Far
But one day, he pushed it too far. One day, he actually somehow conned his editor into paying him to go duck hunting in Kansas, with the excuse that he'd write a nice 16-column-inch piece about it, and take lots of pictures. And he pulled it off. He got paid real, actual money–got paid–to go duck hunting. Sure, he wrote the piece, and brought back the pictures to go with it. But that experience planted a seed that would eventually sprout into a loco weed that would prove harder to kill than Kudzu.
Before that weed could emerge, Roy would first have to spend two winters in Wyoming, where he figured to make more money teaching college students how to write than he made writing for the paper. So he moved far to the north and west. But not even hightailing it to Wyoming fixed his writing habit. There he wrote sports stories about strange new things like indoor rodeo and high school wrestling. But always, the time he got paid to go duck hunting haunted him out of the depths of his memory.
As he taught writing and wrote, he managed to accumulate many guns, and much ammo. A pair of Wyoming blizzard seasons convinced him to move back south, and he landed another English teaching job at the University of Arkansas Fort Smith. But he just couldn't kick his writing habit. He once again covered high school football games on the sly, and tried to excuse it as "staying current," to help him better advise his new college's student newspaper. When the football game stories proved to be not enough, he branched out into feature stories for the local daily, and even worked his way up to several book reviews for the statewide Arkansas Democrat Gazette.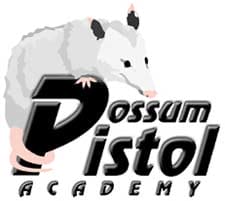 In a desperate attempt to reduce his reliance on writing (which was now funding his rapidly-growing ammo habit) Roy dove deeper into his teaching and his guns. He started his own firearms training business, www.possumpistol.com, and convinced his boss at the college to let him start and coach a club air rifle team, a lot like the one Roy had competed on during his college days.
For a while, it all seemed to work. But then Roy got offers to write for a new internet publication www.thecitywire.com. That led to another part-time gig with the Ozarks Farm and Neighbor, where Roy found himself writing feature stories about cattle ranching and farming.
And the recollection of getting paid to hunt ducks and write about it all those years ago rose out of his foggy, ink-soaked mind, like a springing teal on the first day of the season.
That memory and his new writing gigs pushed Roy closer and closer to the edge, like a well-tuned 1911 trigger about to trip its sear. He decided to get paid to do more stuff he liked by using the same old excuse that he'd write about it. He drank homemade beer, and wrote about it. He hung out with people who did cool things and wrote about them. He even spent a week at Orange Beach, Alabama, during an oil spill and wrote about that.
His fevered imagination pushed him to find more and more ways to combine things he liked with his low, base habit of journalism, and inevitably, it pointed him back to the guns. Ever since he had hit that first BB-gun bullseye on that fateful Christmas morning all those years ago, it had always been about the guns. So he shot guns and wrote about it. He watched other people shoot guns, and wrote about that. He sought out more publications  where he could write more about shooting more guns. He even made strange videos of himself as he shot the guns that he wrote about.

Worst of all, he discovered Professional Outdoor Media Association (POMA), an organization that promised to help him write more about shooting more guns and that might even, some day, allow him to once again get paid to go duck hunting.  Of course with the same tired old excuse that he would write something about it afterwards.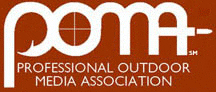 Roy has come to grips with his situation. He realizes who and what he is, and is willing to come to final acceptance and make peace with himself. He just hopes other people out there will recognize his peculiar circumstance, and provide him chances to fish, hunt and shoot guns, or even watch other people fish, hunt and shoot guns, and then write about it–that is, so long as he gets paid.
Remember, he's not only addicted to writing, he's got an expensive ammo habit to fund. And he remembers well the words of another good doctor, Dr. Samuel Johnson, who said "No man but a blockhead writes, except for money." Roy's got to find something useful to do with those English degrees, you know?
Editor Note: Roy Hill needs help, mostly professional, but if you'd like to become one of Roy's writing enablers, email him at [email protected]
~~~~
About AmmoLand's Outdoor Writer Biography Series:
AmmoLand Shooting Sports News is doing all it can to support writers specializing in shooting sports, hunting and conservation. Our innovative publishing of active, working, writers biographies on our vast syndication network is one of our ways to give back and get writers noticed amongst all the chatter of blogs and social media. Today when everyone "thinks" they are a writer these folks "walk the talk" and are the cream of the crop!
If you are business and in need of support materials, a magazine in need freelance authors or a website or blog looking for fresh content then the writer above or the others found here may be just the hard working person you need to know. Contact one today and tell them Ammoland sent you.
Are you a writer with a background writing on the topics of Firearms, Hunting, Gun Rights or Conservation you can see your Biography here. Use our Contact Page, introduce yourself and ask for our Outdoor Writer Biography Series Writing Guide Lines to get you started.