Gunslick Pro Adds New Shotgun & Rifle Pull-Thru Cleaning Kits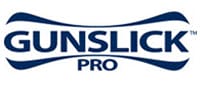 ONALASKA, Wis. –-(Ammoland.com)- Gunslick Pro introduces two specialized pull-thru cleaning kits for shotguns and rifles. These kits feature a unique system that allows for quick-cleaning of several different firearms. Kits are now available.
New Innovative Jag System
Gunslick Pro's innovative and easy-to-use pull-thru jag system ensures effective removal of fouling and buildup. Caliber-specific jags and gauge-specific plugs allow for a perfect fit inside the bore and enable one-size patches to fit all firearms. Shooters can also apply included Gunslick Pro Ultra-Lube to clean, lubricate and protect firearms for lasting performance.
Engineered for Effective, Efficient Cleaning
Precision gun care is made faster, easier and more affordable with the new Hunter's and Shotgunner's Pull-Thru Cleaning Kits. These compact, soft-pack kits are designed for precision-cleaning of most popular rifle calibers and shotgun gauges. Kits consist of a well-organized assortment of cleaning accessories including: pull-through cables, seven different sized brushes, bore light, jags or plugs, adaptors, polishing cloth, finger-grip handle, 150 cleaning patches and more.
Anytime, Anywhere
Pull-thru kits perform afield or at the range. MOLLE compatible attachment webbing and S.T.R.I.K.E.® Speed Clips™ provide quick and easy connection to packs, bags and cases. Slim and compact nylon cases mean enhanced storage and convenience.
"The Pro in Gunslick really applies to these new kits," said Raluca Simian, Accessories Brand Director. "We are able to deliver a full-scale, superior cleaning system in a compact and mobile setup."
To learn more about the new pull-thru kits, and the entire Gunslick Pro family of gun care products and cleaning supplies, visit www.gunslick.com.
Part No. and Description
41400 Hunter's Pull Thru Cleaning Kit
41410 Shotgunner's Pull Thru Cleaning Kit