Independent Poll Shows Strong Support For Open Carry Of Firearms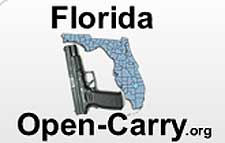 Florida – -(Ammoland.com)- Independent poll by Open Market Research, Inc. shows strong support for open carry bill, says WCTV-TV
WCTV-TV in Tallahassee is reporting results of two new independent polls show strong support for Florida Senate Bill 234.
The bill, would reverse the current general ban on the open carry of firearms, and would remove Florida from the list of only seven states in which the practice is prohibited.
Taken by marketing research, advertising, and public relations firm Open Market Research, Inc., the polls show broad support for the measure across a wide range of demographics, including sex, age, and political preference in Districts 2, 3, and 4 of Northern Florida.
Respondents were first asked whether or not they supported the issuing of concealed weapons permits. In all three districts, support was overwhelming, with a margin of over 7 to 1 among men and between 3 and 4 to 1 among women. The respondents were then asked if they favored removing criminal prosecution for concealed weapons license holders who expose a holstered weapon. Men approved by greater than a 4 to 1 margin with women also approving at greater than a 2.5 to 1 margin.
Senator Charlie Dean is widely viewed as the deciding vote as to whether or not the Senate Committee on Criminal Justice will give SB 234 a favorable report. A former Citrus County sheriff, Senator Dean is believed to be relying on the opinion of the Florida Sheriff's Association who, despite having no published legislative agenda on their website with regards to SB 234, historically has been against the citizens' right to keep and bear arms in self-defense. However, males age 18 – 29 in Senator Dean's own home district overwhelmingly approve of the bill by a whopping 91% in favor to 9% against.
In 1987, the Florida Sheriff's Association was vehemently opposed to shall-issue concealed carry, predicting shootouts over parking spaces and blood in the streets. A year later, after extensive efforts to document problems arising from shall-issue concealed carry, the head of the association was forced to admit the virtual absence of such problems. According to the Florida Department of Agriculture's own statistics, only 168 licensees lost their licenses for gun related crimes in the over 23 years since.
Open Market Research, Inc. reports the margin of error on the poll to be +/- 3%.
About:
Florida Carry is a non-profit, non-partisan, grassroots organization dedicated to advancing the fundamental civil right of all Floridians to keep and bear arms for self defense as guaranteed by the Second Amendment to the United States Constitution and Article I Section 8 of the Florida Constitution. Florida Carry, Inc. was organized by a group of Florida gun rights activists in order to better coordinate activities, effectively lobby the state legislature, and to provide a legal entity capable of filing suit to demand compliance with state and federal law. Florida Carry stands only to represent our members and the over 6 million gun owners of Florida. We are not beholden to any national organization's agenda that may compromise that mission.
Florida Carry works tirelessly toward repealing and striking down ill-conceived gun control laws that have been proven to provide safe havens to criminals and be deadly to law abiding citizens.