AR15.com Billet Lower Receiver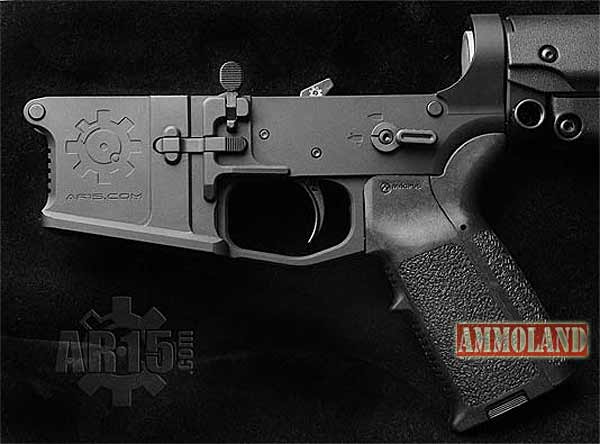 Honeoye Falls, NY –(Ammoland.com)- So it's been a while coming, but they are finally here.
To give you some details on how they came to be, describe what components we have chosen to include and why, and hopefully answer a number of questions, below is an introduction and guide to the AR15.com Billet Lowers.
HISTORY
The AR-15 lower receiver has remained relatively unchanged through the first 50 years or so of its existence. A few tweaks have been made over the years to provide reinforcement or protective fencing, but no one really varied much from the "mil-spec" forging design.
A few years ago, Magpul introduced what I still believe to be the nicest lower receiver design to date. Made from aluminum billet (essentially a raw block of aluminum) vs. a forging meant that the manufacturer had more opportunity to vary the design outside the constraints of that preformed forging. These receivers were quickly sold via pre-order lists, and despite the demand for them, their production was very limited. Magpul never got into the lower receiver business due to liability insurance reasons, and their lowers disappeared into collector's safes.
Back in the Summer of 2008, AR15.com bought the "rights" to the Magpul lower design with the intent to produce these the same year. However, we fought a long battle as one manufacturer after another promised to make them for us, and failed to deliver. The reason for the most part had to do with the presidential election of 2008. With the threat of an Obama win and the sure to follow ban on "assault weapons", every manufacturer jumped into manufacturing overdrive with their own products, and so ours fell off the schedule. The eventual election of our current president did nothing to help us get on a schedule, and we approached no less than 4 major manufacturers in that time.
Finally, in the Fall of 2010, after the ban failed to materialize and as the gun industry was feeling the impact of all that excess manufacturing inventory, we saw the light at the end of the tunnel. We were given a window for our lowers, and we were assured we would have them in time for the Holidays. Then that schedule slipped to mid December, then to SHOT 2011 (January), and eventually, we received the first batch in March of 2011.
Our lifetime members got a first shot at our lowers, with the first product being delivered on April 1, 2011. With the recent sale of Magpul lowers reaching $3000+, we wanted to take advantage of the date and the "soft" roll out of the product as we prepared parts, process, and a new manufacturing environment.
So despite the fact that it's been nearly 3 years in the making, during which just about everyone else has released a billet lower of their own, we are finally glad to announce that ours are here. Perhaps a bit late to the party, but as they say "Things that were hard to bear are sweet to remember", and we're proud of our final product. We firmly believe that it is the finest lower receiver in the marketplace, and that is a result of all of the different component manufacturers that we've worked with.
Before we get into those, let's go through the brief list of features on the receiver itself.
FEATURES
Magazine well – aggressively flared for easier loading, and with a textured front
Markings – Bolt Face Logo is milled rather than outlined, and other than the company name below it, all text is on the right side of the magazine well. We chose to mark these 5.56mm vs. 'multi' to differentiate the 5.56 platform vs. the 7.62 platform to come later. Also, FIRE selector pictograms on both sides are at 68 degrees vs. 90 degrees to support both 45 and 90 degree selectors.
Trigger guard – integral "Magpul" style vs. the often seen 'round' version to maintain the clean lines
Roll Pins – there are no roll pins required in the assembly of this lower; the trigger guard is built in, and the bolt catch/release assemblies both use a threaded pin
Takedown pin – comes with a threaded takedown pin detent spring channel so your takedown pin detent and spring remain in place when the stock is removed
Ambi-Bolt release – receiver features a bolt release on the right hand side, and this lever includes the AR15.com name
COMPONENTS
Our lowers are being sold as complete assemblies, with a number of selectable options. We are doing this in order to leverage a number of the components that work well together, limit the number of components required to be kept in inventory, as well as to ensure the highest level of performance. We understand that there are lower cost alternatives out there, and while that market is saturated, we wanted to present an alternative that requires no upgrading. We may extend the available configurations in the future based on user demand, so we welcome your feedback.
Trigger
Our goal in selecting a trigger was to offer a solution for the typical user; a 90% case if you will. We chose the Geissele Automatics Super 3 Gun trigger with a slightly heavier spring and a laser etched BFL on the hammer. This trigger is what I would consider a "fast" trigger; it allows for quick follow-up shots as typically used in a defensive, combat, or simulated environment such as dynamic training and competition.
Selector
For the selector, we went with a Battle Arms Development Short Throw ambi selector. This is the first lower receiver manufactured specifically to accommodate the ST or 45 degree selector. With the various levers available for this selector, a user can customize their setup exactly the way they want it. We ship with a standard lever and short lever, but B.A.D. offers a policy unmatched by any other manufacturer to exchange your levers for any other available choice, and they will ship it to you before you return it so you can try it and make sure you are making the right decision. Try finding that level of customer service anywhere else!
Combining the 45 degree selector with the modified S3G trigger means this lower allows you to go from a ready position with your weapon on safe to engaging a target with multiple rounds, and back to safe faster than any other production AR lower. It may take a bit to get used to, but once you do, you'll wonder how we've put up with a 90 degree design for so long. If for any reason you cannot use a 45 degree selector, the lower is compatible with a 90 degree selector.
Norgon Ambi Mag Release
Rounding out the ambidextrous controls is the Norgon Mag Release. What you end up with is a lower receiver with controls on both sides for mag release, and above those for the bolt release. This means that whether you're left handed or right, or you train shooting from both sides, your controls are in the same place regardless of which hand is manipulating them. A true ambi-lower for those environments where obstacles do not always allow you to shoot from your "strong" side.
Grip
We chose the Magpul MIAD grips for all builds, and these are available in black, OD, and FDE to match the selected stock. All parts and accessories (for this and all components) are included with your lower. This means you can change out any of the inserts if you so desire.
Stocks
Stocks are the main option in configuring your lower. We currently are supporting 3 models, all from Magpul, and some with color choices. Once again, if demand dictates, we can expand this offering.
CTR
The CTR is a great choice for a lightweight fighting carbine, and we offer it in black, OD, and FDE (MIAD grip will match your stock color selection). The CTR stock comes with a 6-position anti-tilt receiver extension featuring drainage holes, and your choice of lower receiver back-plate/sling attachment point. The choices here include a Magpul ASAP, Noveske QD, and Black Widow NoMar plate.
UBR
The UBR is a heavy collapsible stock featuring a fixed cheek piece, storage compartment, QD mount points, and the ability to set a preset open position. Both the storage compartment and the QD mount points can be reversed for LH shooters, or the compartment can be removed altogether. This stock is only available in black right now, but we can order other colors, and expand the offerings if the demand is there.
PRS
The PRS stock is perhaps the finest non-collapsible stock made, and features length of pull adjustment was well as cheek height adjustments. This stock is a great fit for a longer-range rifle, or for states where the collapsible stocks have been banned, but it is seeing more and more use in 3-gun competition.
CONCLUSION
So there you have it- an official announcement as well as a short description of what we've put into our lowers in time, labor, features, and parts. As the AR-15 platform has evolved over the years through numerous initiatives, we feel this product offers the most advanced components available today. This is not only a great looking receiver, but one that is highly functional in a way that may make you leave your other lowers in the safe more often.
Rather than make this a limited production item, we hope to improve on it over time through comments from our users. We look forward to feedback from those that have purchased and used the product, as well as your pictures. For those that are interested in ordering, check out the AR15.com store.
We will be making a factory SBR offering on these; when you order, put SBR in the comment box.
About:
AR15.Com originated in 1996 as a mailing list for firearm enthusiasts. As the years passed and interest grew, a website came into existence to present those same enthusiasts with a means to collect, share, and explore information. Shortly afterwards, a bulletin board was added to create a more interactive experience for the growing list of users. The site was still in it's infancy, but was growing in popularity. Visit: www.ar15.com