American Guns: Typical Suburban Family, Aside From Their Booming Firearms Business
New Series 'American Guns' to Feature Colorado Family's Business Dealing with Historic, One-of-a-Kind and Downright Cool Guns.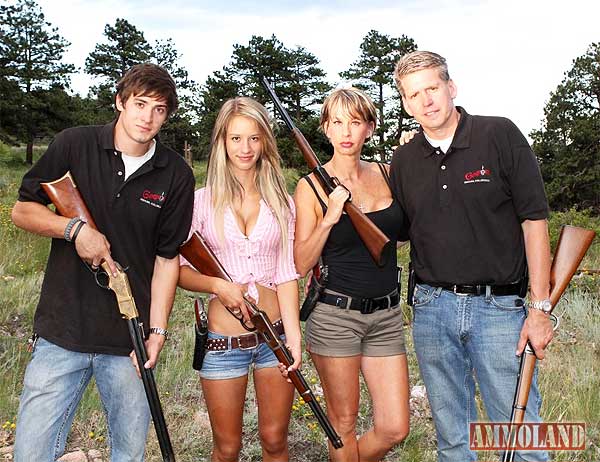 USA –-(Ammoland.com)- The Wyatts are your typical suburban family… who just happened to own one of the premiere firearms facilities in the world.
Rich Wyatt and his wife Renee own Gunsmoke, located outside Denver, Colorado, where they buy, sell and trade guns – from hand canons to hunting rifles.
And if you don't see what you want, they'll build one for you – from nothing more than a block of metal. Gunsmoke has the largest and most experienced group of gunsmiths in the state.
When the Wyatts aren't building or selling guns, they're shooting them. No gun leaves their shop without being test fired by the family first. They – and the one-of-a-kind and historic guns they make and sell – are featured in the all-new series AMERICAN GUNS, premiering Monday, October 10th at 10PM ET/PT.
The Wyatt family takes their guns very seriously. For 18 years they have owned Gunsmoke, turning the small business into a firearms enterprise. Rich is a master firearms trainer and former police officer with more than 22 years experience in law enforcement. He is one of only six people in the world certified by Colonel Jeff Cooper, a master firearms instructor and one of the 20th century's foremost experts on the use and history of small arms. And Rich is an extremely talented gunsmith. Give him a block of steel and he'll create art.
Renee is the matriarch of the Wyatt clan. She runs the household and the business. And she doesn't go anywhere without her pistol in her boot. Kurt, 21, is the son of Rich and Renee. He qualified as a pistol expert at the age of 13 and is a gifted engraver, doing all of the engraving jobs that come through Gunsmoke. He hopes to one day own the shop his father has built up. Daughter Paige is a 16-year-old high school senior and works in the shop summers and nights/weekends. But don't let her looks fool you. She knows more about guns than most men who walk into the shop. And before you know it, you'll be buying one from her.
Guns to be featured in the premiere season of AMERICAN GUNS include:
Knuckle Duster – This gun, built in the late 1800's, was both brass knuckles AND a firearm. It was used for 'close combat' because it was small and easily concealable. It's no surprise it was the weapon of choice for many card cheats, thugs and prostitutes at the turn of the century. When a customer brings one in that can't be repaired, Rich does what he does best – builds him an exact replica from scratch.
'Colt' Single Action Army – This is THE quintessential gun of the American west, carried by outlaws like Jesse James and lawmen like Wyatt Earp. Rich builds a one-of-a-kind Single Action Army from scratch for, proving the widespread appeal of the weapon, a Baptist preacher who wants a specialized and extremely fast six-shooter to help him win Cowboy Action Shooting competitions.
Hand Cannon – Before there were handguns, there were cannons. The Hand Cannon is the first cannon that could be held in a soldier's hands and fired. Some argue that this is THE first firearm, the predecessor to everything we today know of as "guns." Rich and his team build one from scratch for Rich's friend Gary, an explosives fanatic who owns every type firearm built to blow things up…except this one.
Adaptive Hunting Rifle – A young Colorado man lost most of the use of his right arm when his Humvee struck an IED while on patrol in Iraq. As a right-handed shooter, his injuries have made it difficult for him to hunt with his father, the thing that will make him feel normal again. Rich boldly steps up to the challenge to build this American hero a rifle that adapts perfectly to his physical limitations and helps him feel whole again.
AMERICAN GUNS is produced for Discovery Channel by Gurney Productions, where Scott Gurney and Deirdre Gurney are executive producers. For Discovery Channel, Anna Geddes is executive producer.
About Discovery Channel
Discovery Channel is dedicated to creating the highest quality non-fiction content that informs and entertains its consumers about the world in all its wonder, diversity and amazement. The network, which is distributed to 100.8 million U.S. homes, can be seen in 210 countries and territories, offering a signature mix of compelling, high-end production values and vivid cinematography across genres including, science and technology, exploration, adventure, history and in-depth, behind-the-scenes glimpses at the people, places and organizations that shape and share our world. For more information, please visit www.discovery.com.
About Discovery Communications
Discovery Communications (Nasdaq: DISCA, DISCB, DISCK) is the world's #1 nonfiction media company reaching more than 1.5 billion cumulative subscribers in 210 countries and territories. Discovery is dedicated to satisfying curiosity through 130-plus worldwide television networks, led by Discovery Channel, TLC, Animal Planet, Science and Investigation Discovery, as well as US joint venture networks OWN: Oprah Winfrey Network, The Hub and 3net, the first 24-hour 3D network. Discovery also is a leading provider of educational products and services to schools and owns and operates a diversified portfolio of digital media services, including HowStuffWorks.com. For more information, please visit www.discoverycommunications.com