Vadasz Dominates At The National Police Shooting Championships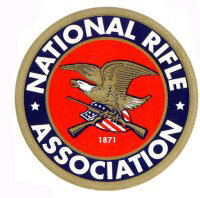 FAIRFAX, Va. –-(Ammoland.com)- Agent Robert Vadasz of the United States Border Patrol won NRA's 2011 National Police Shooting Championship (NPSC), held from September 17-21, at the Shooting Range Park in Albuquerque, New Mexico. Vadasz captured this third NPSC title with a final score of 6147-413x.
"I couldn't be more excited," said Vadasz. "Clay Tippett was mentor of mine back when I joined the Pistol Team. He is the only other Border Patrol Agent to win more than two National Police Shooting Championship titles – that's what keeps me coming back and that's what motivates me to go after title number four."
Final scores are an aggregate of three separate competitions: Police Shotgun, Open Class 3000 and the Service Pistol Championship. During the four days of competition, almost 600 Law Enforcement Officers from across the nation and the world were in Albuquerque to challenge Vadasz for the Grand Champion title.
"Robert continues to demonstrate the unique proficiency required to earn the National Police Shooting Championship title," said NRA Law Enforcement Director Glen Hoyer. "I can't thank our competitors, Mayor Richard Berry, and the City of Albuquerque enough for helping make this year's Championship one to remember."
Border Patrol Supervisor Enoch Smith also scored 6147 points, but his X (or Bullseye) count of 80 lead to a second place finish while the Border Patrol's Kevin Worrell came in third with a 6134-378x.
"I thought Enoch might take it this year," said the Florida-based Vadasz. "It was close."
Stephanie Diaz of the Los Angeles Police Department was named Women's Champion after firing a 6057-295X. LA Department of Wildlife & Fisheries' Aron Hastings won the High New Shooter category with a total score of 5674-142x while Alberto Demacedo of Policia Judicial Venezuela shot a 5976-234x to take home the High Non-U.S. Citizen title.
First held in 1962, NPSC is run by the NRA's Law Enforcement Division, and supported in part by the Davidson's Law Enforcement Endowment and the Law Enforcement Training Endowment of the NRA Foundation, including generous donations from more than 100 firearm and equipment manufacturers and businesses.
For more information about NRA's National Police Shooting Championships, visit www.nrahq.org/law/competitions/npsc/npsc.asp, call (703) 267-1632, or send e-mail to [email protected]
About:
Established in 1871, the National Rifle Association is America's oldest civil rights and sportsmen's group. Four million members strong, NRA remains the nation's leader in firearm education and training for law-abiding gun owners, law enforcement and the military.