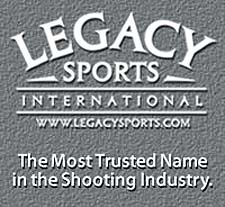 Reno, NV – -(Ammoland.com)- Legacy Sports International announces the addition of Citadel M-1.22 rifles!
Made by Chiappa (Armi Sport) of Italy, these .22 LR caliber rifles recreate the M-1 Carbine carried by the U.S. Military in WWII and Korea.
Using the exacting specifications of the military version, the Citadel M-1.22 will be offered in both traditional wood stocked and new, synthetic stock models.
Both models feature locking blow-back actions and ten round magazines. According to Chiappa, many original and aftermarket accessories for the M-1.30 caliber carbine will fit on these models. Specifications are as follows:
Catalog # Caliber Stock Finish BBl Length OAL Weight MSRP
CIR22M1W .22 LR Wood Blued 18 Inch 35" 4.8 lbs. $383.00
CIR22M1S .22 LR Synth Blued 18 Inch 35" 4.8 lbs. $301.00
Both models feature adjustable rear sights with fixed front sights and 6 groove, 1:16" ROT. Both maodels also come with two (2), 10 round magazines!
About:
Legacy Sports International, LLC is an importer of firearms and shooting accessories. Bringing in high quality, reliable and affordable products for shooting and hunting enthusiasts is the mission of Legacy Sports' business. With well-respected brands including Howa and Puma rifles, Nikko Stirling optics, Escort shotguns, and Citadel handguns and shotguns. This is why Legacy Sports is known as "The Most Trusted Name in the Shooting Industry." For more information contact: www.legacysports.com