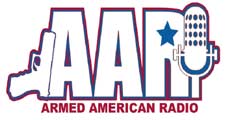 Atlanta GA –-(Ammoland.com)- Armed American Radio and host Mark Walters hit the road this Sunday, 12-04-2011 for a special live show from the studios of WORL, News Talk 660 AM, Orlando, FL. with special in studio guest co-host, Mr. Rob Pincus of I.C.E. Training Company and its core Combat Focus Shooting instruction.
Rob and Mark will be at the Gander Mountain Academy flagship location outside Orlando, Florida this Sunday as Mr. Pincus finishes a weekend video training course. Upon completion of the video conference, Rob will join Mark in the studio for the three-hour special live broadcast.
Syndicated host Mark Walters said, "Rob Pincus has been on "on-air" contributor for the past year on Armed American Radio and it's always a pleasure when he joins the broadcast. This particular show promises to be very special with Rob actually joining me in the studio.

As one of the world's foremost firearms training experts, Rob brings a cutting edge perspective to Armed American Radio listeners who are dedicated to their personal defense.

It's a privilege to have Rob associated with the show and I'm really looking forward to the live Orlando event and everything that Rob brings to the broadcast. Listeners around the nation are in for a real treat this weekend!"
Adding affiliate stations at an unprecedented pace since its syndication two years ago, AAR now airs in dozens of markets across America from Florida to Alaska every Sunday evening from 8-11pm ET, 5-8 pm PT and is the fastest growing nationally syndicated, pro-gun radio broadcast in America dedicated entirely to the right to carry a firearm.
As Salem Radio syndicated talk host Mike Gallagher says, "Mark Walters and the Armed American Radio Network are redefining weekend talk radio".
For more information, or to schedule an interview, please contact:
Mark Walters
Host
Armed American Radio Network www.armedamericanradio.com
[email protected]
386-AAR-Mark (386)-227-6275
Armed American Radio is syndicated on the Salem Radio Network. For media kit information, please visit www.srnonline.com/talk/talk-walters.shtml
About:
Armed American Radio is the most free-thinking, politically incorrect radio station in the U.S.A. We discuss liberty, self-defense, weapons, family, friends, and life. Visit: www.Armedamericanradio.org