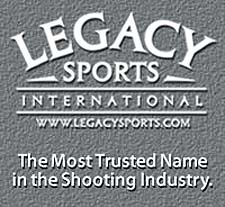 Reno, NV – -(Ammoland.com)- Legacy Sports International announces the addition of the Howa/Hunter and Howa Hunter Scope Combo package.
These new package rifles are available in 20, 22 inch standard (#2 contour) barrels and 24 inch magnum barrels, in either blued or stainless configurations.
Many sportsmen prefer the look and feel of a solid wood stock on their hunting rifle. Enter the Howa Hunter. Made with a one-piece high grade walnut stock, the Hunter model features fine checkering at the forend and pistol grip, and a Monte Carlo style cheek piece.
The Howa Hunter comes with a rubber recoil pad and sling swivel studs already mounted. And of course, the field proven M1500 Howa barreled action in blued or stainless. Scoped models (blued, only) are equipped with a one-piece base and a great Nikko Stirling GameKing 3.5-10×44 scope with 1 inch tube.
The GameKing scope features high-grade, coated lenses, parallax adjustment, waterproof bezel caps and finger adjustable turrets for windage and elevation. An LRX reticule illuminated in either red or green finishes off this great hunting scope.
Howa rifles feature the NEW HACT two-stage trigger system, three position safety, forged, flat-bottomed receiver and forged, two lug bolt.
Howa rifles are known for their accuracy and dependability.
HOWA HUNTER WALNUT RIFLE (Rifle, Only)
Catalog Number, Caliber, Length of Pull, Overall Length, Weight, MSRP
BLUED
HHR50201+ .223 Rem. 13.37" 42" 7.45lbs $673.00
HHR50401+ .204 Ruger 13.37" 42" 7.45lbs $673.00
HHR51201+ .22-250 Rem. 13.37" 42" 7.45lbs $673.00
HHR52101+ .243 Win. 13.37" 42" 7.45lbs $673.00
HHR52301+ 6.5x55SW 13.37" 42.5" 7.45lbs $673.00
HHR52401+ .25-06 13.37" 42.5" 7.45lbs $673.00
HHR52601+ .270 Win. 13.37" 42.5" 7.45lbs $673.00
HHR53101+ .308 Win. 13.37" 42" 7.45lbs $673.00
HHR53201+ .30-06 13.37" 42.5" 7.45lbs $673.00
HHR53301+ .300 Win. Mag. 13.37" 44.5" .45lbs $725.00
HHR53401+ .338 Win. Mag. 13.37" 44.5" 7.45lbs $725.00
HHR53701+ 7mm Rem. Mag. 13.37" 44.5" 7.45lbs $725.00
HHR53901+ .375 Ruger 24" 13.37" 44.5" 7.45lbs $725.00
HHR53905+ .375 Ruger 20" 13.37" 40.5" 7.45lbs $725.00
STAINLESS
HHR50212+ .223 Rem. 13.37" 42" 7.45lbs $808.00
HHR50412+ .204 Ruger 13.37" 42" 7.45lbs $808.00
HHR51212+ .22-250 Rem. 13.37" 42" 7.45lbs $808.00
HHR52112+ .243 Win. 13.37" 42" 7.45lbs $808.00
HHR52312+ 6.5x55SW 13.37" 42.5" 7.45lbs $808.00
HHR52412+ .25-06 13.37" 42.5" 7.45lbs $808.00
HHR52612+ .270 Win. 13.37" 42.5" 7.45lbs $808.00
HHR53112+ .308 Win. 13.37" 42" 7.45lbs $808.00
HHR53212+ .30-06 13.37" 42.5" 7.45lbs $808.00
HHR53312+ .300 Win. Mag. 13.37" 44.5" 7.45lbs $834.00
HHR53412+ .338 Win. Mag. 13.37" 44.5" 7.45lbs $834.00
HHR53712+ 7mm Rem. Mag. 13.37" 44.5" 7.45lbs $834.00
HHR53912+ .375 Ruger 24" 13.37" 44.5" 7.45lbs $834.00
HHR53915+ .375 Ruger 20" 13.37" 40.5" 7.45lbs $834.00
HOWA HUNTER WALNUT GAMEKING COMBO with Nikko Stirling 3.5-10×44 GameKing Scop
Catalog Number, Caliber, Length of Pull, Overall Length, Weight, MSRP
HHR60201+ .223 Rem. 13.37" 42" 7.45lbs $737.00
HHR60401+ .204 Ruger 13.37" 42" 7.45lbs $737.00
HHR61201+ .22-250 Rem. 13.37" 42" 7.45lbs $737.00
HHR62101+ .243 Win. 13.37" 42" 7.45lbs $737.00
HHR62301+ 6.5x55SW 13.37" 42.5" 7.45lbs $737.00
HHR62401+ .25-06 13.37" 42.5" 7.45lbs $737.00
HHR62601+ .270 Win. 13.37" 42.5" 7.45lbs $737.00
HHR63101+ .308 Win. 13.37" 42" 7.45lbs $737.00
HHR63201+ .30-06 13.37" 42.5" 7.45lbs $737.00
HHR63301+ .300 Win. Mag. 13.37" 44.5" 7.45lbs $750.00
HHR63401+ .338 Win. Mag. 13.37" 44.5" 7.45lbs $750.00
HHR63701+ 7mm Rem. Mag. 13.37" 44.5" 7.45lbs $750.00
HHR63901+ .375 Ruger 24" 13.37" 44.5" 7.45lbs $750.00
HHR63905+ .375 Ruger 20" 13.37" 40.5" 7.45lbs $750.00
About:
Legacy Sports International, LLC is an importer of firearms and shooting accessories. Bringing in high quality, reliable and affordable products for shooting and hunting enthusiasts is the mission of Legacy Sports' business. With well-respected brands including Howa and Puma rifles, Nikko Stirling optics, Escort shotguns, and Citadel handguns and shotguns. This is why Legacy Sports is known as "The Most Trusted Name in the Shooting Industry." For more information contact: www.legacysports.com