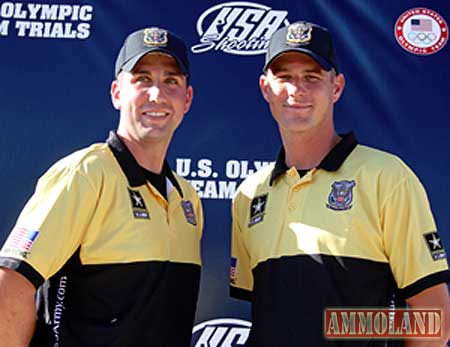 USA – (Ammoland.com)- With Kim Rhode and Vincent Hancock having set the precedent with two gold medals and four Olympic records, Team USA will send double trap specialists Glenn Eller (USAMU/Katy, Texas) and Josh Richmond (USAMU/Hillsgrove, Pa.) to the line Thursday at the Royal Artillery Barracks shooting range.
Expectations couldn't be higher for these Army Marksmanship Unit teammates given the success they've showcased in the sport in recent years.
Eller, a four-time Olympian, is the defending gold medalist in the event and as he looks to fight off the competition hungry for his prize tomorrow, he need to look no further than the guy he's beside trained with the past couple of years. Competing in his first Olympic Games, Richmond will have a target on his back as well as the world's No.1 ranked double trap shooter. The Pennsylvania native has dominated the field since 2008, winning a World Championship in 2010 to go along with seven World Cup medals including two in events earlier this year.
The three-time Olympian Eller admits his focus hasn't been the same since his gold-medal triumph and the results have shown with no World Cup medals compared to the eight he earned during the 2004-08 quad. He does own a World Championships medal from 2011 and a newfound comfort level with his replacement Beretta, compliments of his Olympic gun never turning up during a trip to Chile.
Format: On a shooter's command, two targets are released simultaneously within a period of zero to one second from trap machines in the center of the bunker. The two targets travel at different heights and angles and a round consists of 25 doubles.
Qualification – 09:00 am – 1:30 pm (London time)
Finals – 3:00 – 3:40 pm (London time)
Television: 4:45 – 5:15 EASTERN — NBC Sports Network OR NBC LiveExtra Webcast
Rapid Fire pistol begins Thursday as well and presents the best hopes for a pistol medal for Team USA.
Keith Sanderson (Colorado Springs, Colo.) has waited four anxious years for the right to undo a bad finals experience at the 2008 Olympic Games in Beijing. He missed the medal stand by 2.8 points despite setting an Olympic record in qualifying and entering as the event leader.
1996 Men's Rapid Fire Pistol Olympic silver medalist Emil Milev (Tampa, Fla.) brings the experience of four Olympic Games, previously shooting for Bulgaria. For this physical education teacher, another Olympic Games wasn't something he planned on when he moved to the USA in 2003. "I was thinking after 2007, I will stop (shooting) and this will be it," said Milev. "But I like shooting and I kept coming to Nationals and kept practicing from time to time and slowly my results improved and it all just happened."
Format: Qualification consists of two stages of 30 shots each, and each stage consists of two series of five shots fired in eight, six, and four seconds, fired at five separate targets, 75cm apart, at a distance of 25m. In the finals, the best six shooters compete in a knockout by firing, in turn, at groups of five electronically simulated falling targets (similar to those used in biathlon events). Shooters fire a series of five shots in four seconds, one shot at each of the five standard rapid-fire targets. However, the electronic display of the results shows a 'hit' (white) or a 'miss' (black) for each of the five simulated targets.
Qualification – 10:30 am – 1:00 pm (London time)
---