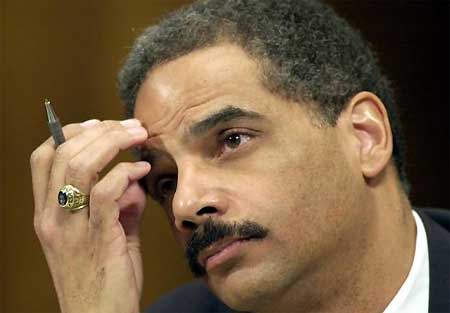 Washington, DC –-(Ammoland.com)- The continuing saga of Eric Holder's efforts to block the release of documents pertaining to the Fast and Furious "gunwalking" scandal has tarred the Department of Justice with a black mark of shame it will not overcome for years.
Yes, the ATF has long been known by gun owners as a rogue and unconstitutional agency, but this scandal has now made most Americans aware of its unlawful tactics and disrespect for the rights of law-abiding citizens.
The actions of Attorney General Holder, a man who once said he wanted to brainwash Americans into supporting gun control, have left a bad taste in the mouths of Americans.Eric Holder
There is no doubt that one of the unspoken objectives of Fast and Furious was to forward the cause of domestic gun control. If any Mexican citizens or American law enforcement personnel happened to get in the way? Well, that was just too bad.
The Department of Justice is so out of control that the House of Representatives recently voted to find an Attorney General of the United States in civil and criminal contempt of Congress. This is the first time in the history of the republic that this has happened.
Does this move Holder to cooperate with Congress? No.
He continues to hide behind President Obama's use of executive privilege and has forced Darrell Issa, Chairman of the House Oversight and Government Reform Committee, to file suit in U.S. Federal District Court to perhaps finally get the documents out of Holder and his cronies (that's assuming said documents haven't been shredded and deleted from hard drives).
Gun control has been a pet cause of Mr. Holder's since his days in the Clinton Administration. He's after our constitutional rights and he won't be happy until he gets them, no matter how much blood is on his hands, directly or indirectly.
Just ask the families of Brian Terry and Jamie Zapata, who were American law-enforcement officers, killed by guns the ATF "lost" as part of Fast and Furious.
Or how about Mexican citizens such as Mario Gonzalez, brother of Chihuahua State Prosecutor Patricia Gonzalez, who was tortured and killed by members of a drug gang. When the Mexican authorities raided the place where he had been held, they recovered two AK-47s that were known to be part of the Fast and Furious program?
All of these deaths and hundreds more can be laid at the feet of Eric Holder. All of them are why Darrell Issa is suing his office and it is why GOA is suing the ATF for more documents related to Fast and Furious. We want answers, Mr. Holder.
Moreover, the families of Brian Terry, Jamie Zapata, and Mario Gomez, along with many others, have a right to ask: Why did my loved one have to die so you could take the rights of honest Americans away? Why indeed Mr. Holder?
Support GOA's fight against the ATF in court so we can shine the light of day on the documents they have tried to hide from the American people.
Gun Owners of America
8001 Forbes Place, Suite 102
Springfield, VA 22151
Phone: 703-321-8585
FAX: 703-321-8408
www.gunowners.org
---
About Gun Owners of America

Gun Owners of America (GOA) is a non-profit lobbying organization formed in 1975 to preserve and defend the Second Amendment rights of gun owners. GOA sees firearms ownership as a freedom issue. `The only no comprise gun lobby in Washington' – Ron Paul