What Do The Battle Of Antietam And The Libyan Civil War Have In Common? Lessons For Presidents And Arm-Chair Historians.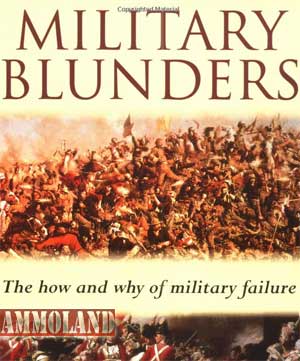 USA –-(Ammoland.com)- MILITARY BLUNDERS:The How and Why of Military Failure – By Saul David
"Better than Simon Schama, Saul David has recast history as addictive narrative." —The Independent
"Fascinating and informed . . . David's objective snapshots leave no nationality entirely unscathed." —The Herald
Can we learn from history? Certainly—though modern politicians seem stubbornly oblivious to the lessons of the past.
In Military Blunders: The How and Why of Military Failure (Skyhorse Publishing, October 2012), military historian Saul David vividly describes the worst military blunders ever perpetuated and analyzes the psychological and tactical factors at play.
Updated to incorporate errors in judgment from the military interventions in Afghanistan and Iraq to the Libyan Civil War, this volume will inspire debate, entertain, and educate.
In Military Blunders, the six major mistakes generals have made throughout history are analyzed in depth. The disastrous historical campaigns covered include:
· The Battle of Antietam
· Hitler at the Siege of Stalingrad
· The Somme Offensive
· The Fall of Singapore
· Custer's Last Stand
· And many more!
If this book proves anything, it is that no power, however vaunted its reputation, is immune from military catastrophe. With two millennia of miscalculations, oversights, and fiascos, this no-holds-barred volume makes for an exciting and thought-provoking read.
About The Author
Saul David is a bestselling novelist, a television presenter, and one of the leading military historians today. His three-part television series Bullets, Boots, and Bandages first ran on the BBC in 2012. His most recent book, All the King's Men (Viking, 2012), deals with the history of the British soldier. He has also written on the Indian Mutiny, the Charge of the Light Brigade, and Victoria's Wars.
Military Blunders: The How AND Why of Military Failure
By Saul David
Skyhorse Publishing paperback, also available as an ebook
ISBN: 978-1-62087-076-1
Price: $14.95
On Sale: October 2012