Industry World Record On Track To Be Shattered Again By Rock Island Auction Company Closing 2012 Out At Over $40 Million.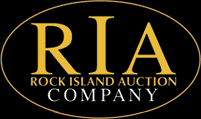 Rock Island, IL –-(Ammoland.com)- Rock Island Auction Company's November 30, December 1st & 2nd Premiere Firearms Auction is set to be the finest auction in the Company's history and will close out an already impressive 2012 auction schedule by breaking the industry annual sales World Record set by RIAC back in 2010.
"While the outcome of any auction is far from predictable, we do know that the conclusion of this sale will once again see Rock Island Auction Company raise the banner as the #1 firearms auction company in the world for the 9th consecutive year and shatter our industry record set in 2010 of 32 million in sales with well over 40 million in sales this year", said Patrick Hogan President and CEO of Rock Island Auction Company.
The line-up of this sale encompasses Part II of The World Renowned Gateway Collection, The Bobby Smith Estate Collection, The Anthony Urbanowski Smith & Wesson Collection and The Finest Collection of Lugers to ever come to auction.
The sale will kick off on Friday, November 30th at 9 a.m. CST in Rock Island, Illinois with Colt firearms, of which there are 900 in total, and an even more impressive group of over 50 factory engraved Colts. The Bobby Smith Estate Collection and Col. Samuel Colt's first firearms endeavor, the Paterson, are a true highlight of this auction. There are eight examples of these rare and early "Colt" firearms which include three belt model revolvers, one cased, and five examples of Paterson rifles and shotguns headlined by the only known 1839 factory deluxe carbine with a Birds Eye Maple Stock and accessories. Moving onto Col. Colt's next firearms development, RIAC will offer two Colt Walkers, one of which, a C Company 26, is from Samuel Walker's own Texas Ranger Company. Continuing along with percussion Colt's, the sale includes breath taking factory engraved, presentations, and remarkable condition 1849 Pockets, 1851 Navy's, 1860 Armies, 1861 Navy's, 1862 Polices, and Roots.
The selection of percussion Colt's even boasts a pair of consecutively serial numbered Colt factory 1851 Navy cutaways. Along with the firearms themselves are the equally rare and important accessories including original Paterson chargers, cappers, and molds; an original case and accessories for a Texas Paterson; and one of the most important deluxe wood and glass presentation cases from "the inventor" to "E.K. Root". This auction will also offer collectors the final chance to own a piece from the world renowned Gateway Collection. Its magnificent grouping of over 100 first generation Colt Single Actions and Bisley Models are highlighted by a factory engraved silver plated Colt SAA with factory relief carved ivory grips as well as other stunning factory engraved SAA's, flattop targets, outstanding Cavalry's and a pinch frame. One of the most important Single Actions in the group happens to be serial number 1873 of the model 1873 SAA and even better it's in .22 Rimfire. Another headliner includes Serial Number 1 Camp Perry engraved and presented to the governor of Connecticut.
Moving on to Winchesters, the auction features four, fresh, never before publicly offered Ulrich family factory engraved rifles and carbines, three of which are signed. The best of the best is the John Ulrich Factory panel scene engraved, gold inlaid, signed, with factory D carved deluxe stock 1894 Takedown Rifle. These exhibition guns are from the same collection of superb conditioned standard, deluxe, and special order 1866's, 1873's, 1886's, 1892's, 1894's and 1895's including the finest, 1 of 350 1886 Musket's and two of the finest Henry rifles RIAC has had the privilege of offering. Complementing the Winchesters is a fantastic selection of Volcanic firearms, both pistols and carbines. However, lever actions are only the beginning. Also featured is an excellent selection of 1885 high and low wall rifles including a mint 1 of 5 special order 1885 Low Wall Winder Takedown Musket with factory letter followed by extraordinary model 12's and some of the rarest pre-64 Model 70's a collector could hope to find. The grouping contains a 300 H&H Magnum Super grade in its original box, a 300 Winchester Magnum Super Grade also in its original factory box, and a 1957 manufactured near new Super Grade Featherweight in 30-06 also accompanied by its original box, just to name a few.
"It has been nearly a decade since the last comprehensive and truly outstanding grouping of antique Smith & Wesson's were offered for auction and the drought is now over with the consignment of the Anthony Urbanowski Collection of fine, rare and high condition antique Smith & Wesson's", said Kevin Hogan, RIAC's Director of Auction Services. "Mr. Urbanowski set out to collect every variation of every model of antique S&W's and was for the most part successful", said Hogan.
The collection includes 200 antique S&W's from a 1st model tip-up to an encyclopedic study of the large frame No. 3. Some of the highlights: the only known original blue finish .44 DA Wesson favorite, two outstanding Mexican models, an ultra-rare 1 of 32 Nashville Police 6" No. 3 American, Henry Nettleton U.S. inspected State of Maryland No. 3, 1 of 10 S&W First Model 44 DA in .38 Military as well as 1 of the 1000 U.S. cavalry Americans and two 320 revolving rifles.
The collection of derringers and pocket pistols is equally impressive and includes one of the finest groupings of Remington ring trigger derringers: a flat mint blue finished ring trigger with pearl grips, an excellent "zigzag" variation, two factory engraved, one factory engraved and etched still accompanied by its original box, and the Remington's are only the tip of the iceberg. Other noteworthy derringers and pocket pistols include a massive and scarce "dragoon" sized Henry Deringer with set trigger, an ivory stocked Henry Deringer, a silver plated Moore presentation No. 1 deringer and many more.
From the same collection of many of the derringers comes a stunning selection of rare and excellent Sharps Rifles which will include a factory special order heavy barrel scoped Sharps Model 1874 Sporting Rifle, an ultra heavy barrel (the heaviest known) Special Order Model 1874 bench rest target rifle with Factory Letter, and a desirable Sharps Model 1877 No. 1 Long Range Rifle.
Once again there will be a superb offering of U.S. and German Military arms; from early U.S. Martial pistols to stunning and rare 1911's and 1911A1's, paralleled by part three of the finest Luger collection ever assembled. The sale will feature a truly magnificent 1903 collection with arguably the finest 1903 rod bayonet extant which will be complimented by a wonderful selection of rare and high conditioned German sniper rifles, as well as a scarce and highly desirable VG1.5 Volkssturmgewehr people's assault rifle.
From the earliest of flintlock and percussion firearms to the most modern sporting and Class III weapons, this sale is sure to have something for every level of firearms buyer from investment collectors to target shooters and hunters. For more information on any of the above items or to learn more about the other 2750+ items in this sale please visit www.rockislandauction.com or call 1-800-238-8022.
Rock Island Auction Company is the nation's leading auction house for firearms, edged weapons and military artifacts. Catering to all levels of collecting, a $1000 item or $1 million item is welcome as firearms specialists are on staff and more than one auction venue is available to accommodate varying needs. RIAC works with advisors, estates and collectors and is prepared to buy single firearms and collections outright and/or can sell through private treaty. There is no limit to what RIAC can buy. To find out more please visit www.rockislandauction.com or call 1-800-238-8022.
About:
Rock Island Auction Company has been solely owned and operated by Patrick Hogan. This company was conceived on the idea that both the sellers and buyers should be completely informed and provided a professional venue for a true auction. After working with two other auction companies, Mr. Hogan began Rock Island Auction in 1993. Rock Island Auction Company has grown to be one of the top firearms auction houses in the nation. Under Mr. Hogan's guidance the company has experienced growth each and every year; and he is the first to say it is his staff's hard work and determination that have yielded such results. Visit: www.rockislandauction.com