Looking for more advice on shotguns parts and gear, check out our recent review of the best shotgun stock kits.
Manasquan, NJ –-(Ammoland.com)- With all the talk by rabid anti-gun media and liberal democrat politicians about a new assault weapons ban or high capacity magazine ban, better known as "clips" by our friends in the media, we thought it was time to stock up the "Assault Weapons Ban Go Bag".
And Yes, we know that Assault Weapon is the wrong word as well as High Capacity or just the word weapon, but when fighting the antis you some times have to speak their language.
With our partners Brownells.com and Amazon, (that's right, turns out the big retailer is pretty pro gun) our Assault Weapons Ban Go Bag of gun gear includes what we think you should stock up on that would be the target of any liberal politician's dream ban.  Throw in some gear to make it easier to hide our firearms in case of an out right confiscation (you can bet I am not turning in my gun!) as is being threatened by Diane Finestien and others, and you will, as they say, be voting with your wallet.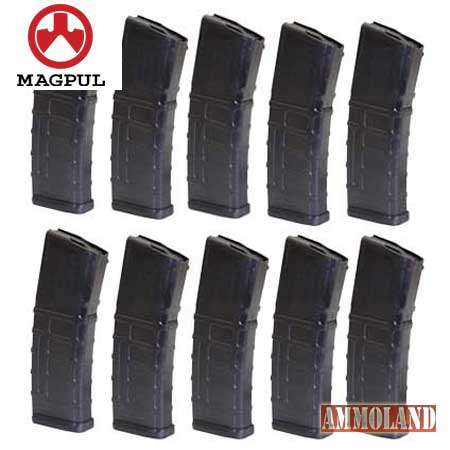 Number One: High Capacity Magazines A f-en pile of so called 'High Capacity' ~ 'Evil Black Rifle' magazines, and I am talking enough to resupply my whole neighborhood.
Brownells, sells 10 pack of MAGPUL – AR-15/M16 PMAG POLYMER MAGAZINE 10-PAK and they have told us that since the Sandy School Shooting and then Las Vegas shooting they have sold a mutli-years worth of these mags with no end in site.
So much so, that due to unprecedented demand levels Magpul is focusing their efforts on producing only BLACK PMAGs for the foreseeable future. To expedite delivery of your order, Brownells is only accepting additional backorders for BLACK 30 and 20 round PMAGs. Regardless of the backorder we ordered four 10-paks of thirty round mags, as that will hold a 1000+ rounds of .223 from just one of our cases of stock piled ammo.
Number Two: The dreaded Flash Hider, I think anti gunners just dislike this common accessory because it has the word "Hider" in it, which means we are doing something sneaky and evil, plus many are pointy and sharp. Liberals are always afraid they may not have enough common sense to NOT point this end of a gun at themselves, and they don't want to poke an eye out as well as shoot themselves in the head. Who can blame them, duh?
There are just so many Flash Hiders that it is really personal choice, and since they start at $9.98 you can afford to get a few.
Note: some of the flash hiders on the Amazon link are for toy airsoft guns, which makes me think it would be funny if you Cerakoted the real thing 'safety orange' like is required for airsoft guns in some states like New Jersey.
Number Three: An Adjustable Rifle or Shotgun Stock with a Pistol Grip, you know the "thingy that goes up". My home defense shotgun is a good ole Remington 870 Pump and to make it more offensive to liberals I went and got me an ATI Six Position Adjustable Talon Tactical Shotgun Stock with Scorpion Recoil System, Triton Mount System and Adjustable Cheekrest Part #A.1.10.1141
ATI is the go-to brand name for adjustable stocks but I also recommend BlackHawk Stocks and Tapco stocks for your AR rifle or shotgun.
Number Four: Behind door number four is A BAYONET!! Even though our president believes otherwise, the bayonet is still a very useful and common self defense weapon.
And since many AR's and AK's have bayonet lugs we need to get it just in-case elected officials decide to neuter the lugs off all our AR's to prevent a rash of bayonet homicides by gun owners. Once again Amazon has a great selection.
If you really want to take it up a notch you can get a Laserlyte Pistol Bayonet for your evil Glock.
Extreme Storage
While not something that would necessarily be banned, the next few items in our Count Down are more for extreme storage when we are blatantly hiding our newly outlawed items from the jack boots when they come to ransack our homes.
Number Five: BROWNELLS/ZCORR – Vacuum Seal Storage Bags. This cool item is used by The U.S. Marine Corps for long-term storage of M16A2 rifles.
These air-tight, industrial-grade storage bags are treated with advanced Vapor Phase Corrosion Inhibitor (VPCI) inside to protect and preserve your valuable firearms during long term storage—from 5 years up to as long as 20 years.
Non-toxic VPCI forms an invisible gas inside the laminated polymer-and-foil shell that bonds to the firearm's metal surfaces and prevents corrosion from starting. ZCorr claims it won't harm optics, non-metal surfaces, or stock finishes and each bag has a one-way check valve that allows you to use any conventional vacuum cleaner hose to remove the air from the inside to help ensure maximum long-term protection.
Puncture and tear resistant shell is completely flexible for easy storage in gun safes and hard cases. Press-to-close, air-tight zip-lock seal keeps out air, moisture, and contaminants, and stays sealed even in harsh environments.
With these I can bury my gun in the park down the street, attach them to the bottom of my vehicle or throw my guns in the bottom of my neighbors pool for retrieval after the man has given up the search.
Number Six: A Mono Vault Burial Tube. These ridged plastic tube allow you to store your so called 'Military Weapons' away from prying eyes and search warrants for extended periods of time.
Safely store firearms or other items underground with our 31″ long Monovault. The Poly Farm Monovault utilizes a one piece corrosion and waterproof polymer container with a gamma seal lid to protect against moisture. The vault features a 8.75″ opening and 28.5″x9″ of interior space, allowing you to fit most AK and AR rifles as well as 18.5″ shotguns with collapsible or folding stocks. With careful padding, you can fit up to four AR-15 rifles broken down with the take-down pins removed.
Mono Vault makes rifle and pistol size tubes. Which of course can be use to store any other item that our wonderful savor, President Obama, should decide is best if we don't have, so we don't hurt ourselves.
Rifle Mono Vault
Pistol Mono Vault
So as with any go bag the 'Assault Weapons Ban Go Bag' is subject to change depending on the threat, and I did not even touch on Ammunition and AK parts kits. But it is smart planning to take advantage of these legal to own items while you still can. Because just like our God Given Rights, they can be gone tomorrow with the next executive order.
Did we miss something you think is a 'MUST HAVE' ? Let us know in the comments below what you think should be on this list?