By Andy Lightbody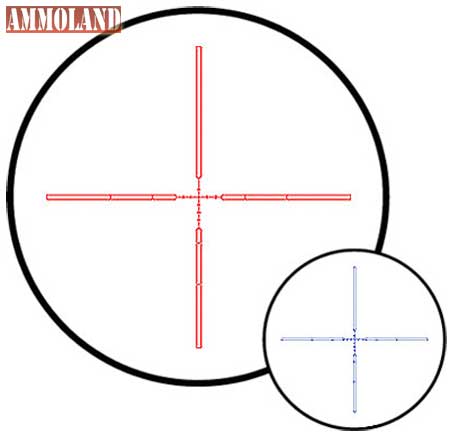 Grand Junction, Co. –-(Ammoland.com)- Out to the range, and because first and foremost we wanted to use the GSR for both antelope and elk hunting, we equipped it with a Hawke Sport Optics (www.hawkeoptics.com) Panorama 3-9x 40mm Scope with a feature that they call Extreme View (EV).
With the EV feature, the shooter is afforded a full 20% increased Field of View (FOV). While a 20 % increase may not sound like much, challenge yourself to try a straight 3-9x scope against the Panorama EV, and you are going to be shocked at the difference it really makes both on the range and in the field!
Depending upon your shooting needs, the Panorama EV line of scopes range from 3-9 variable power, up to a more powerful 4-12x variable, with a choice of three reticles—Mil Dot 10X; MAP 6 A; or the L4 Dot. All reticles are glass etched and come with both a blue (day) and red (night/low light) illumination feature that is fully adjustable. The illumination feature adds a level of confidence when shooting at some of the longer distances. Even if the batteries fail in the field, with the glass-etched reticles, the Panorama remains a solid performer.
The Hawke Sport Optics Panorama 3-9x 40mm Scope comes in a variety of reticles:
MAP 6A Reticle (see image above)
The Hawke Optics MAP 6A reticle in the Panorama series of scopes is glass etched in black, but also allows the shooter to use the illumination feature of red (low light) and blue for daylight shooting.
Glass etched version of the popular MAP 6 reticle, features aim points designed to work with your rifles trajectory. Hollow bars are calibrated for 3, 6 and 9″ bracketing when set on 6x magnification.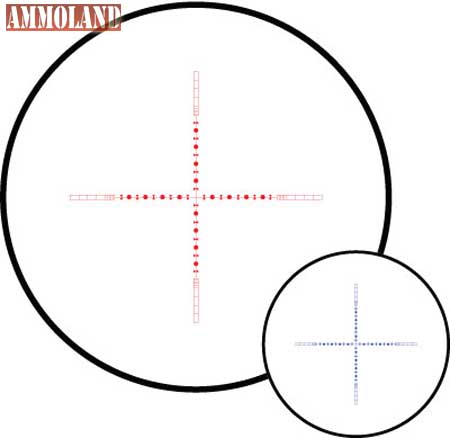 Hawke Optics ½ Mil Dot 10x Reticle
For our tests and hunts, we used the Mil Dot reticle in the Panorama 3-9x EV scope from Hawke Sport Optics. Glass etched, and with both red and blue illumination features, we were able to use the Ballistic Reticle Calculator (BRC) program from Hawke and figure out the bullet's trajectory out to a range of 400 yards.
Fully floating design, featuring dots and ties spaced at mil dot spacing.The hollow bars are calibrated for 0.2 mil spacing and whole spacing.
Hawke Optics L4 Dot Reticle
The popular L4 Reticle on the Hawke Optics Panorama scopes features a thin center wire and illuminated dot (red or blue). The illumination feature has eleven brightness settings to suit your hunting or shooting conditions.
Based on the populer 30/30 reticle with a fine top post to ensure the target is not obscured.
The illuminated dot offers quick and accurate placement. Eleven brightness settings ensure you always have the proper brightness for your hunting situation..
Out To The Range We Go
Armed with a couple of boxes of Winchester XP3 .308 ammo with a polymer tipped 150 grain bullet, we sighted the GSR in on paper at 3-inches high at 100 yards. Referencing the Ballistic Reticle Calculator (BRC) which is available for anyone's use from the Hawke Optics website (home or mobile app), we were quickly able to have the rifle and scope printing out a 4-inch group accurately out to the 400 yard mark from the Lead Sled benchrest.
Even with the bullet drop from the 100 to the 400 yard range, with the Panorama Mil Dot reticle, it was easy to simply drop down a couple of dots as the range increased. Regardless of what caliber, bullet weight or range you plan on shooting or hunting with, this free software is something that should be loaded into everyone's home computer, or on your smart phone. Its free, it's easy to use, and it works great from the bench or out in the field. Simply go to www.hawkeoptics.com/brc and start using it!
Hawke Sport Optics Panorama 3-9x 40mm Scope
To read the review of the Ruger Gunsite Scout Rifle used for this review, click here: https://tiny.cc/tum4ow
About:
Andy Lightbody is a TV/Video producer and host, as well as an outdoor writer/photographer. Lightbody is the former Managing Editor for Western Outdoors Magazine; Senior Editor at Petersen's Hunting Magazine and Editor of the Guns & Ammo Book Division. He remains an avid shooter, hunter and angler, as well as a regular contributor to the Sportsman's Warehouse publication—Sportsman's News Magazine. Visit Rocky Mountain Television/Productions : www.rmtv.net