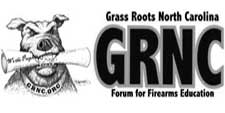 North Carolina –-(Ammoland.com)-We face a grave federal danger of the type not seen since 1994.
Not only is absolutely everything about the Feinstein/Obama/Biden scheme unacceptable, if even a portion of it passes they will be back for more almost immediately.
That was precisely their M.O. in 1993-94 when they ran the Brady Act, the "Violent Crime Control Act" (semi-auto ban) and would have followed with the truly draconian Brady II had the 1994 Republican Revolution not intervened.
We are starting to see Republicans cave, and there is an excellent chance the ban will pass the Senate, meaning it will have to be stopped in the House. I hope you agree that absolutely no "compromise" is possible because, as is so often the case, "compromise" as defined by our opposition is a process in which we lose just slightly less than in the original proposal.
More than most, Howard Coble is showing all the signs of becoming particularly squishy on this subject. He recently said:
"At the same time, I also believe that the right to bear arms must be exercised responsibly. Congress can do its part by carefully monitoring crime and updating our criminal laws where change is deemed appropriate. Although these changes should be reflected in our firearm laws, they should not be used as a guise to diminish the Second Amendment."
So far, the NRA is making all the right noises, but will they do the right thing when the ban begins to move? Or will they do as they did on armor-piercing handgun ammunition in the 1980s, on the Brady Act, on the first rendition of the Lawful Commerce in Firearms Act, on the NICS Improvement Act and most recently on the Disclose Act? Namely, will the NRA "compromise?"
'NATIONAL COALITION TO STOP THE GUN BAN'
That is why GRNC, in conjunction with other groups, has formed a national coalition to defeat the Obama/Biden/Feinstein proposal.
19 state and federal organizations have so far joined the "National Coalition to Stop the Gun Ban," including all of the groups listed below;
The objective of the coalition is to kill the proposals. Period. Not to "compromise" by saddling gun owners with restrictions and whining "It was the best we could get." Nothing less than the death of the Obama/Biden/Feinstein proposals will suffice;
All coalition members have agreed that "compromise" is not an option; AND
Coalition members launched with a coordinated "Open Letter to Members of Congress" which is listed at the bottom of this alert, and with coordinated press releases and membership alerts.
COALITION MEMBERS
National organizations: The Firearms Coalition, Gun Owners of America, Rights Watch International, USRKBA.org
State organizations: Arizona Citizens Defense League, Arkansas Carry, Florida Carry, Inc., Grass Roots North Carolina, Gun Owners of Maine, Gun Owners of Vermont, Michigan Gun Owners, The Minnesota Gun Owners Civil Rights Alliance, Montana Shooting Sports Association, New Hampshire Firearms Coalition, Nebraska Firearms Owners Association, Oregon Firearms Federation, Virginia Citizens Defense League, West Virginia Citizens Defense League, Wisconsin Carry, Inc.
GRNC STATEMENT ON FEINSTEIN PROPOSAL
"The National Coalition to Stop the Gun Ban will work to defeat all proposed federal gun control and to punish any congressional representative who supports it. We find absolutely nothing about Senator Feinstein's proposal to be acceptable: Not banning guns, not registering guns and gun owners via the National Firearms Act, not registering private gun sales via the National Instant Check System, and most certainly not expanding BATFE police powers which are already being abused.

"'Compromise,' as our opposition defines it, is a process in which freedom-loving Americans lose slightly less than under the original proposal. Consequently, in the most egregious attack on Second Amendment freedom in our history, we will not 'compromise.'"
IMMEDIATE ACTION REQUIRED!
CONTACT HOWARD COBLE: Whether or not you live in his district. (Use zip code 27408-5100 if using the form and you are outside his district.) Call him at (202) 225-3065 or fax him at (202) 225-8611. Tell him to stand tough against the gun ban. His help will be vital and he must not cave.
IMMEDIATELY CONTACT YOUR US HOUSE REP & BOTH US SENATORS: Deliver the message below
IMMEDIATELY SIGN THE PETITION TO STOP THE GUN BAN: Whether or not you have already signed it, forward this alert to others and tell them to sign. The petition is now at: www.StopTheGunBan.org
HELP GRNC STOP THE BAN: GRNC and its sister organization, Rights Watch International, will be slugging this out in Congress. It is a big project for us, but utterly essential. If you have not done so (and even if you have), go to: https://grnc.org/index.php/join-grnc/contribute
DELIVER THIS MESSAGE
Suggested Subject: "STOP THE GUN BAN"

North Carolina Congressional representatives:

Grass Roots North Carolina has helped to create the "National Coalition to Stop the Gun Ban," a coalition of 21 national and state organizations which continues to grow with each day. Today, you received an "Open Letter to Members of Congress" from GRNC and coalition members.

The underlying goal is to defeat all gun control proposals being foisted on the American public by Barack Obama, Dianne Feinstein, and others. Coalition members have agreed that in the most egregious attack on the Second Amendment in American history, no compromise is possible. The proposals must be stopped dead.

Any legislator who supports such measures will be punished by coordinated actions of coalition members. I want you to know that I support the National Coalition to Stop the Gun Ban, will monitor its alerts and recommendations, and will work to defeat hostile legislators.

Respectfully,,
NORTH CAROLINA REPRESENTATIVE CONTACT INFO
Senator Richard Burr (R- NC) 202-224-3154 https://burr.senate.gov/public/index.cfm?FuseAction=Contact.ContactForm
Senator Kay Hagan (D- NC) 202-224-6342 https://www.hagan.senate.gov/contact/
Representative G. K. Butterfield, Jr. (D – 01) 202-225-3101 https://butterfieldforms.house.gov/index.cfm?sectionid=68&sectiontree=368
Representative Renee L. Ellmers (R – 02) 202-225-4531 https://ellmersforms.house.gov/index.cfm?sectionid=58&sectiontree=358
Representative Walter B. Jones, Jr. (R – 03) 202-225-3415 https://jones.house.gov/contact-me/email-me
Representative David Price (D – 04) 202-225-1784 https://forms.house.gov/price/webforms/contact_form.shtml
Representative Virginia Foxx (R – 05) 202-225-2071 https://virginiafoxx.house.gov/forms/writeyourrep/
Representative Howard Coble (R – 06) 202-225-3065 https://coble.house.gov/contact/zipcheck.htm
Representative Mike McIntyre (D – 07) 202-225-2731 https://mcintyreforms.house.gov/contact/
Representative Larry Kissell (D – 08) 202-225-3715 None Currently Available
Representative Sue Myrick (R – 09) 202-225-1976 None Currently Available
Representative Patrick McHenry (R – 10) 202-225-2576 https://mchenry.house.gov/contact/zipauth.htm
Representative Heath Shuler (D – 11) 202-225-6401 https://shulerforms.house.gov/contact/
Representative Mel Watt (D – 12) 202-225-1510 https://forms.house.gov/watt/webforms/zipauthen_contact.shtml
Representative Brad Miller (D – 13) 202-225-3032 https://forms.house.gov/bradmiller/webforms/zipauthen_contact.shtml
George Holding [email protected] Office: 919-755-4083
Mark Meadows [email protected] PHONE: 828.697.5012
Robert Pittenger [email protected] (704) 650-1722
Richard Hudson [email protected] 704-795-2012 Phone
About:
Grass Roots North Carolina/Forum for Firearms Education is a non-profit, all volunteer organization devoted to educating the public about trends which abridge the freedoms guaranteed by the Bill of Rights, and engaging in grass roots activism to preserve those freedoms. Formed in 1994 to conduct a highly successful rally for the Second Amendment, GRNC has gone on to conduct projects like "Remember in November: A Gun Owner's Guide to Voting," bringing concealed carry to North Carolina. Visit:www.grnc.org