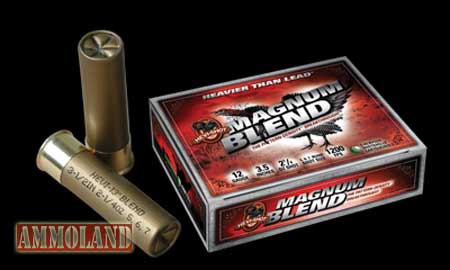 Lancaster, PA –-(Ammoland.com)- Environ-Metal Inc. announces a new turkey load for spring gobbler season.
New to the Magnum Blend line, Reduced Recoil Magnum Blend will be offered in 12 gauge 3" 1-1/2 oz 1150 fps 5,6,7 and in 20 gauge 3" 1 oz 1150 fps 5,6,7.
Magnum Blend shells up your odds on a big Tom by using their Pattern Density Technology with a mixture of size 5, 6 and 7 in the same shell. Upon ignition the 7's will open up and clear any Tom in its path up to 35 yards.
That's where those 6's kick in and they take out those unlucky Tom's up to 55 yards. The 5's will go even farther than that but at that distance we recommend calling them in a little closer to give ole Tom a chance.
For more information on this or any other Environ-Metal products please contact Kelly Sorensen, VP of Sales & Marketing, at www.hevishot.com
About:
HEVI-Shot – Providing the next generation of Shot Shell loads to hunters and Home Defense! Customers can continue to reach us at [email protected] or by visiting: www.hevishot.com