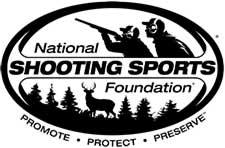 NEWTOWN, Conn –-(Ammoland.com)- The National Shooting Sports Foundation (NSSF), as the firearms industry's trade association, has consistently opposed the concept of so-called "universal background checks."
They are also opposed by 86% of federally licensed firearms retailers.
We are somewhat encouraged by "The Public Safety and Second Amendment Rights Protection Act," an amendment (S. Amdt.715) proposed by Senators Manchin (D-WV), Schumer (D-NY), Toomey (R-PA) and Kirk (R-IL), in that the amendment is not as broad in scope as Senator Schumer's "universal background check" bill that is part of the bill (S.649) about to be debated by the Senate.
Noteworthy in the amendment being sponsored by Senator Manchin are provisions to improve the reporting of records of all prohibited purchasers into the National Instant Criminal Background Check System (NICS). NSSF is advocating precisely this through our "FixNICS" campaign. We are also encouraged by the amendment's inclusion of NSSF's proposal to allow federally licensed firearms licensees the ability to access NICS to screen current or prospective employees. NSSF urged the Department of Justice to pursue this proposal over a year ago.
However, NSSF continues to be concerned over provisions that do not address our product liability concerns for retailers processing private party transfers and retailer record-keeping responsibilities that also expose them to possible license revocation for even simple mistakes. These concerns are at the core of our opposition to so-called "universal background checks."
We are also very concerned that this amendment would give priority to background checks originating at gun shows over those initiated by retailers serving customers at their retail storefront establishment. Weekends, when gun shows take place, is also the busiest time for retailers. Instead of prioritizing gun show checks, we believe Congress should provide NICS with the resources needed to process all checks instantly, which has always been the goal of the NICS system.
While we oppose S. Amdt.715, we remain committed to participating in any constructive dialogue to find real solutions to try and make our communities safer, a goal shared by all Americans.
Sincerely,
Lawrence G. Keane
National Shooting Sports Foundation
Why the Firearms Industry Opposes Universal Background Checks
About NSSF
The National Shooting Sports Foundation is the trade association for the firearms industry. Its mission is to promote, protect and preserve hunting and the shooting sports. Formed in 1961, NSSF has a membership of more than 8,000 manufacturers, distributors, firearms retailers, shooting ranges, sportsmen's organizations and publishers. For more information, visit www.nssf.org.