Meet National Gun Rights Figures.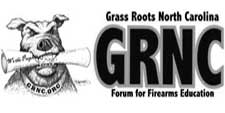 North Carolina –-(Ammoland.com)-GRNC 2013 Annual Dinner and Freedom Awards features renowned researcher John R. Lott and ACORN-busting James O'Keefe!
In the war for truth and individual liberty, some warriors distinguish themselves. Because those who do deserve recognition, GRNC is holding the "2013 GRNC Annual Dinner & Freedom Awards," including an opportunity to meet national figures in the gun debate.
Speakers at GRNC Freedom Awards:
John R. Lott, internationally renowned researcher and author of "More Guns, Less Crime."
James O'Keefe, president of Project Veritas, and maker of secretly-recorded videos that "outted" leftists at ACORN, Planned Parenthood, and National Public Radio.
Bill LuMaye, ardent gun rights supporter and conservative talk show host for Raleigh's WPTF Radio.
Rep. Larry Pittman, courageous NC House Representative and arguably the most pro-gun member of the legislature.
Added bonus:
James O'Keefe will be autographing copies of his book, due out June 18th: "Breakthrough: Our Guerilla War to Expose Fraud and Save Democracy" and John Lott will be signing copies of his recent book: "At the Brink: Will Obama Push Us Over the Edge?"
Shoot with James O'Keefe!
This is a unique opportunity to go to the range & shoot with James O'Keefe while supporting your 2nd Amendment group! GRNC will be holding a silent bid for our Political Victory Fund. The highest bidder and one additional randomly drawn GRNC-PVF contributor will join O'Keefe Sunday, June 23rd at Personal Defense and Handgun Safety Center for some shooting action. Be ready for this opportunity & we will have the bidding forms available at the dinner on June 22.
Event details:
Date: June 22, 2013
Place: Hilton North Raleigh/Midtown, 3415 Wake Forest Rd., Raleigh, NC, 27609-7330, 919-872-2323
Price: Dinner: 1st ticket, $50; 2nd & subsequent tickets, $40 each.
VIP reception: $20/ticket. (Free to GRNC Benefactor members, PRO RKBA Benefactor Sponsors, and active volunteers. For complimentary tickets, contact: [email protected]
Tickets: May be purchased using the enclosed return piece, or via GRNC's web site by CLICKING HERE or going to: http://GRNC.org/annualdinner
Ticket availability will be limited, so order yours ASAP!
Event schedule:
4:00 PM: GRNC annual meeting
5:30 PM: VIP reception
6:30 PM: GRNC Annual Dinner & Freedom Awards
Rooms: GRNC has a limited number of rooms available at the special rate of $95/night. Call the hotel number above and let them know you are with Grass Roots North Carolina.
RAFFLE TICKET PURCHASERS:
GRNC would like to thank everyone that participated in the GRNC Political Victory Fund "Politically Incorrect AR-15 Raffle." This was the first time we sold out of tickets in less than a week. If you bought tickets and have not received a confirmation email, you need to contact Charles French at [email protected] The winner will be notified by email. If I don't have a working email for you, you can't win.
About:
Grass Roots North Carolina/Forum for Firearms Education is a non-profit, all volunteer organization devoted to educating the public about trends which abridge the freedoms guaranteed by the Bill of Rights, and engaging in grass roots activism to preserve those freedoms. Formed in 1994 to conduct a highly successful rally for the Second Amendment, GRNC has gone on to conduct projects like "Remember in November: A Gun Owner's Guide to Voting," bringing concealed carry to North Carolina. Visit:www.grnc.org