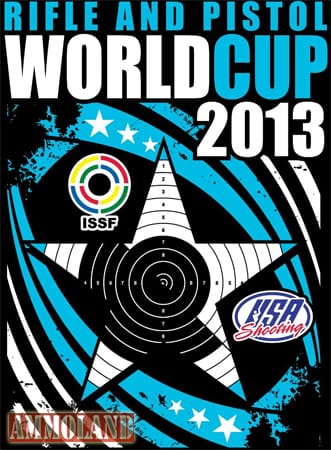 COLORADO SPRINGS, Colo. –-(Ammoland.com)- Olympian Michael McPhail (Darlington, Wis.) earned a second-straight trip to the Prone Rifle finals of the International Shooting Sport Federation (ISSF) World Cup series Sunday placing seventh after a previous silver medal-finish in Changwon, Korea in April.
With two events today, the seven-day World Cup in Ft. Benning, Ga., came to a close.
The U.S. earned two medals with a Will Brown (Twin Falls, Idaho) gold medal in Men's 10m Air Pistol and a Dempster Christenson (Sioux Falls, S.D.) silver medal in the Men's 10m Air Rifle event. Keith Sanderson (Colorado Springs, Colo.) also got in on the highlights for the U.S. squad with a fifth-place finish in Men's Rapid Fire Pistol.
Valerian Sauveplane of France won the all-new Prone final, securing the highest step of the podium on the last shot. The 32-year old two-time Olympian started off the final in eighth place, but with a zero-start final was able to climb his way to the top by the end of competition. On the last two shots, Sauveplane faced Germany's Daniel Brodmeier beating him at the last shot with a 10.3 to win the gold medal. Brodmeier won the three-position rifle event earlier this week and set a new 50m Rifle Prone World Record of 628.8 points during the qualifications. The bronze went to Russia's Fedro Vlasov, 29, who gained his very first medal in this event. Vlasov had already finished on the podium earlier in the week when he had pocketed the 10m Air Rifle bronze medal.
In an event that demands perfection and where anything but 10 or higher is the only thing that is good enough, McPhail's second final string in which he shot 9.8 and 9.9 in between a 10.4 would ultimately seal his fate if even by the slightest margin, a mere 1/10th of a point away from advancing. McPhail shot a 621.6 to advance to the final with the seventh highest score on his home range.
Christenson finished in 18th-place with a 619.4 while two-time Olympian Eric Uptagrafft (Phenix City, Ala.) shot a 619.3 to finish one place behind in 19th. Daniel Lowe (Olympia, Wash.) continued his strong scores in his first World Cup experiences. Competing in a non-qualifier spot for Team USA, Lowe's 624.1 would have qualified him fourth. His score in the Air Rifle event would have provided him a similar fate. Matt Chezem (Simi Valley, Calif.) scored a 620.6 in a non-qualifying start as well.
The U.S. men struggled in the 50m Free Pistol event with 2008 Olympic Air Pistol bronze medalist Jason Turner (Rochester, N.Y.) turning in the highest total of 552 to finish 16th overall. Four-time Olympian Daryl Szarenski (Seale, Ala.) finished 24th with a 546 while Tuesday's Air Pistol gold medalist Brown finished 25th with a 544.
The 35-year-old two-time Olympian Andrija Zlatic of Serbia won the last pistol match at the 2013 ISSF World Cup. Oleg Omelchuk, 29, from Ukraine, finished in second while 43-year-old Vladimir Isakov of Russia earned the bronze.
"This has been a successful competition, with great finals, and great results." ISSF Vice President and USA Shooting President Gary Anderson said, while speaking at the closing of the second ISSF Rifle and Pistol World Cup. "Several new World Records were achieved during this World Cup Stage, both from Senior and Junior shooters. We would like to thanks all the officials and the volunteers, who made this event possible, and the US Army Marksmanship Unit, that hosted us in these facilities."
The ISSF World Cup Stage in Fort Benning kicked off May 5 and included 10 Olympic Rifle and Pistol events comprised of 290 athletes from 40 nations. Three new World Records and two new Junior World Records were scored throughout this World Cup Stage. As was the case at the first ISSF World Cup Stage of the year, in Changwon, Korea, it was the People's Republic of China that finished atop of the medal standings with seven medals overall (two gold, four silver and one bronze). Germany followed in second, with two gold medals, one silver and two bronze medals. Serbia finished on the medal standings podium as well with two gold, one silver and one bronze.
The ISSF World Cup Series will now move on to Munich, Germany, where the next Rifle & Pistol Stage will be held at the 1972 Olympic Shooting Range in Hochbrucke from May 24-30.
For complete results of the ISSF World Cup USA, click here:
http://www.issf-sports.org/calendar/championship_schedule_by_discipline.ashx?cshipid=1443
About USA Shooting:
USA Shooting, a 501c3 non-profit corporation, was chartered by the United States Olympic Committee as the National Governing Body for the sport of shooting in April 1995. USA Shooting's mission is to prepare American athletes to win Olympic medals, promote the shooting sports throughout the U.S. and govern the conduct of international shooting in the country. Check us out on the web at www.usashooting.org and on Twitter at twitter.com/USAShooting.