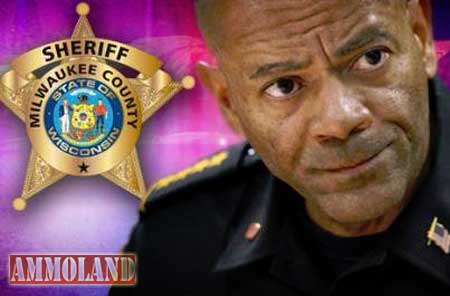 Wisconsin –-(Ammoland.com)- This past spring, many of you may have heard of, or viewed news reports pertaining to Milwaukee County Sheriff David Clarke's public service announcements that made national news.
Sheriff Clarke has, in the past, gone to radio advertising to make public service announcements about drunk driving, distracted driving and other issues.
With this most recent public service ad campaign the Sheriff took on the important topic of self-defense. You can hear his public service announcement that went "viral" here: https://www.youtube.com/watch?v=-8TCx-sM1vw
In what can only be taken as discrimination against the 2nd amendment and the right to self-defense, the Milwaukee County Board of Supervisors has introduced, and passed out of committee, an ordinance that would prohibit Sheriff Clarke from appearing in any future public service announcements.
Milwaukee County Supervisor Deanna Alexander from the 18th district even issued a press release exposing they hypocrisy of the rest of the board: https://tiny.cc/gveuyw
It is notable that the Board of Supervisors never felt compelled to silence Sheriff Clarke when, in the interest of public safety, he made radio advertisements about drunk-driving or distracted driving. Now that he dared speak in support of our right to self-defense, he has come under attack and some on the County Board are trying to silence him.
Today we ask that you take the time to stand for Sheriff Clarke, who had the courage to take the message of self-defense and personal protection to the airwaves knowing he would face attack from the anti-gun media and anti-gun politicians.
Whether or not you are a Milwaukee County resident, PLEASE take this opportunity to make contact with as many of the Milwaukee County Board members as you can and express your SUPPORT for Sheriff Clarke. Ask the Milwaukee County Board Supervisors to REJECT the resolution that would prohibit Sheriff Clarke from appearing in public service announcements.
The following link will take you to the Milwaukee County Board of Supervisors home page where you can access each supervisors email and phone numbers.
https://county.milwaukee.gov/CountyBoard
The resolution to silence Sheriff David Clarke was passed on a close 4 – 3 vote last Thursday. THE FULL COUNTY BOARD will vote on the resolution THIS THURSDAY June 20th. Please, use the link above to contact Milwaukee County Supervisors.
Please also share this message with friends and family who support the 2nd amendment and the right to self-defense.
If you participate on any gun-rights/2nd amendment related facebook groups and/or internet forums, please share this message there as well. We have 3 days to overwhelm the Milwaukee County board with contact from "we the people" and let them know that we support Sheriff Clarke for being willing to advocate for self-defense on the local radio-waves.
Carry On,
Nik Clark
Chairman/President – Wisconsin Carry, Inc.
[email protected]
www.wisconsincarry.org
www.facebook.com/wisconsincarry
About:
Wisconsin Carry, Inc. is a non-profit corporation dedicated to the preservation and reclamation of the rights of law-abiding Wisconsin residents to carry in the manner of their choosing. We believe that "open carry" and "concealed carry" are choices to be made by law-abiding citizens based on their situation and preference. Wisconsin Carry, like many gun-rights organizations in Wisconsin, is investing a great deal of resources to get Wisconsin law changed to allow concealed carry this next legislative session by proposing Constitutional Carry. Wisconsin Carry, Inc. will continue to use legal recourse to deter unlawful treatment of law-abiding Wisconsin residents who currently exercise their right to open carry, and soon will exercise their right to concealed carry in Wisconsin. Visit: www.wisconsincarry.org