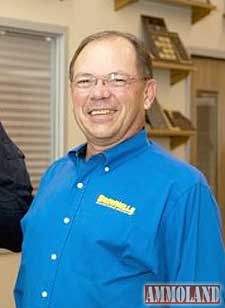 Des Moines, Iowa – -(Ammoland.com)- It's hard to believe July has almost passed us by! Now is the time to get the most out of our warm-weather range time and pull triggers rather than sit in front of the computer.
With that in mind, I'll keep this month's letter short and sweet. Besides, in the morning, I'm leaving for my annual prairie dog population control trip in Wyoming.
First up, our Catalog 66 is about to hit the mail – our biggest and best yet! It has loads of new products including lots of AR-15 gear, optics, even some night vision equipment. But the big news this year is reloading products.
The great response we got from adding ammunition two years ago encouraged us to add all those "other reloading things" you've asked for. We've had reloading gear on the website for well over a year, and now there's 10 pages of it in the Big Book to "oooo" and "aahhh" over. I know you'll find something you just gotta have!
And remember, as big as our catalog is, there's no way to put everything we sell inside it. Be sure to check Brownells.com for our latest new products, plus all the other stuff, too.
Next up, we're looking forward to the day we get to meet James Seto of Glendale, Arizona. James won the "Big Shots" contest we ran on the Brownells Facebook page. Being selected as the biggest of the "Big Shots" means James won $3,000 worth of gear and a trip to visit us here in Iowa. He'll meet-and-greet the Brownells team, tour our facility, and spend an afternoon at our Big Springs Shooting Range. Gonna be fun! Be sure to keep checking our Facebook page and sign up to get the latest exclusive information about future contests, giveaways, and specials. You could be just as lucky as James was!
If you've been hoarding ammo (and let's face it, who hasn't?), now might be time to crack open some of those boxes you've got set back and get back on the range.
More and more products that were scarce earlier this year are coming back into stock. Something we're awfully proud of is our new line of Brownells AR-15 barrels. We've got several models in stock, and several others available for pre-order in 5.56, .300 AAC Blackout, .308, and a variety of contours and profiles. Get yours today! Remington 700 receivers are beginning to come back, too, just the thing for building that custom bolt rifle you've been planning. And for you pistoleros, the Apex Tactical trigger kits for the Smith & Wesson M&P are in…so you can put a great trigger on an already-outstanding high-capacity pistol.
As we look forward to August, there are some anniversaries to keep in mind. World War II in the Pacific Theater ended in August 1945, and it's important to remember the many sacrifices so many made to keep us free. And as I was surfing the 'net, I found in August 1863 President Abraham Lincoln tested the new Spencer repeating rifle by shooting one himself. He approved it for use by the US military forces, making it the first time a repeating rifle with a removable magazine was officially adopted by a country's military – 150 years ago this August.
I do hope you enjoy the rest of your summer. It's either too hot or too cool, too wet or too dry – but it's soon going to be over. And when it's over and history, we're going to have to wait about 8 more months to get another one!
Get out there – enjoy every minute of it….
About:
Founded in 1939, Brownells is an Iowa-based, family-owned company that supplies more than 75,000 firearms parts, accessories, reloading components, gunsmithing tools, and ammunition to armorers, gunsmiths, and shooters worldwide. In addition to their industry leading 100% lifetime guarantee on EVERY product sold, their staff of veteran Gun Techs are available to assist customers with any need – free of charge. There are no minimum order sizes or fees. To place an order, or for more information, call 800-741-0015 or or visit Brownells.com